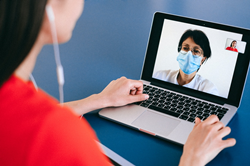 As leaders in healthcare, technology, and public health policy look forward to 2040, we're encouraged by trends that promise more transparency, equitable accessibility, and consumer-centeredness. - Kevin Fleming, CEO, Loyale Healthcare
LAFAYETTE, Calif. (PRWEB) February 10, 2021
The tenor of Deloitte's just-published analysis is clear in the summary's key quote from Neal Batra, principal, Deloitte Consulting LLP, in "Breaking the Cost Curve", "…We expect these empowered consumers will reward organizations that are focused on keeping them healthy. Those organizations that respond by personalizing healthcare in ways that are scalable to large populations can enable better outcomes at a lower cost and can realize the promise of a future that puts well-being at the center…" In many ways, the consulting firm's predictions for the future of healthcare in the U.S. parallel the consumer-centered vision we have been promoting here at Loyale Healthcare.
Deloitte's analysis describes a fundamental transformation in healthcare, driven in part by its experiences during the COVID-19 crisis. Prior to the pandemic, in 2019, spending on healthcare in the U.S. was $3.8 Trillion, representing nearly 18% of gross domestic product (GDP), and actuaries at the Centers for Medicare and Medicaid Services (CMS) were projecting that health spending would continue to grow at a rate of 5.3% per year, reaching nearly $6.2 Trillion by 2028, and to $11.8 Trillion by 2040 – more than a quarter of GDP (26.1%).
But these pre-COVID-19 projections, Deloitte suggests, are "unlikely to endure, according to models developed by our health care actuaries in collaboration with leaders from our health sector." Further, the analysis' authors go on to project "that emerging technologies, an ability to cure and prevent disease (or detect disease in the earliest stage), and highly engaged consumers will lead to a deceleration of health spending between now and 2040." These projections are based on the development of three realities they expect will "take shape by 2040". They include…
1. A $3.5 trillion well-being dividend - Deloitte estimates that health spending will be $8.3 trillion, a difference of $3.5 trillion, described as a "well-being dividend" – the return on investment for tools, systems, or protocols that help consumers to take an active role in their health and well-being."
2. A shift in spending – In 2019, about 80% of health spending went toward care and treatment. By 2040, Deloitte suggests, "60% of spending will go toward improving health and well-being," predicting that "new generation well-being activities will likely empower consumers to monitor their health through technologies that can sense early signals of disease in asymptomatic people and address drivers of health early."
3. A new health economy, different from today's business models, will drive 85% of revenue – Deloitte projects a transformed healthcare industry driven by three major changes: 1) The end of the general hospital as we know it; 2) The slowdown of mass-produced pharma; and 3) A seismic shift in the way health care is financed.
The analysis goes on to examine "10 archetypes – business models, roles, and functions focusing on well-being and care delivery, data and platforms, and care enablement – that (Deloitte) expects to drive success in the future." We're bringing our patient-as-payer perspective to Deloitte's projections by focusing on four of these changing "archetypes."

Interoperable data: Deloitte projects that through the new interoperability rules from the Department of Health and Human Services (HHS) that went into effect on Jan. 1, 2021 "the disconnected components of health care (e.g., hospitals, clinicians, pharmaceutical companies, device manufacturers, researchers and health plans) could be replaced by a system where data is securely shared among stakeholders to create a multi-faceted picture of every consumer's well-being.
We examined this topic in a 2019 article, HHS's new rules on Interoperability and Patient Access: Health Records are Only the Beginning. In that article, we noted that "One of the most glaring deficiencies in a patient's care experience continues to be cost, or the perception of cost. Nearly half of Americans avoid care because of concerns about how to pay for it… (but) patients still don't have the information needed to compare and select the provider that best meets their needs." The article goes on to describe a patient care journey enabled by shared data and a sensitivity to the unique financial circumstances of each patient.
Equitable Access: Deloitte projects that the barriers to care that have existed up to now will give way to a transformed healthcare delivery model, and observes that "Urgent care facilities, retail clinics and a growing acceptance of virtual care are making it easier for patients to meet with care providers in person or via electronic device."
We have written extensively on the financial barriers to care, most recently in Healthcare Affordability is More Than a Problem. It's a Crisis. In it, we cited the results from Commonwealth Fund research, adding that "Until improved systems for enhancing healthcare affordability are embraced, the financial security of patients and providers is threatened – whether consumers are insured, under-insured or uninsured. This is truer than ever today, with millions of Americans having lost their jobs and/or employer-sponsored healthcare coverage because of the COVID crisis.
Empowered Consumers: Deloitte notes that "highly personalized health information can allow consumers to take a more active role in their well-being," and that "Ownership of their health data can increase people's sense of responsibility for their well-being."
Consumer empowerment is no less important in the financial dimension of care. Early last month, we published Healthcare in the 2020s: The Consumer Rules. In that analysis, we listed the formidable force being placed on healthcare providers and payers by regulators, legislators, consumers and emerging competitors. We also listed the five requirements for authentic patient financial engagement in a consumer-driven marketplace: 1) Upfront cost estimates; 2) Multiple payment options to enhance affordability; 3) Interactive, personalized self-service; 4) Personalized, contextual digital communication; and 5) End-to-end data analytics that interoperate with other healthcare systems to unify every dimension of the patient care experience – clinical and financial.
Behavior Change: Deloitte notes the results of their own study of 600 employees who "participated in a 36-week randomized clinical trial to determine if a wearable activity tracker- combined with goalsetting, competition and gamification – would increase physical activity," learning that "data science and behavioral economics – if applied correctly – can lead to positive behavior changes."
We know from our experiences working with health systems across the country that improved patient financial engagement leads to improved patient payment behavior. Patients represent a large and growing source of revenue to healthcare providers, either in the form of direct, out-of-pocket payments for things like deductibles and co-pays or through the influence they exert on their government or commercial payers (insurers).
Consumers have more choices than ever, and competition is proliferating. Further, as we pointed out before the pandemic in We The Patients: Consumerism, Convenience & Technology, "Motivated by high personal out-of-pocket costs and relative indifference to the traditional primary care provider model, (millennials) bring a willingness to consider care delivery alternatives that make care more convenient, more affordable and more accessible digitally." The COVID-19 crisis has accelerated that trend. Because of COVID, this group has expanded to include a much larger demographic base.
By any measure, the COVID-19 health emergency has been a transformative event. The impacts on healthcare may be the most profound and lasting. As leaders in healthcare, technology, and public health policy look forward to 2040, we're encouraged by trends that promise more transparency, equitable accessibility, and consumer-centeredness. The pieces are all in place. The technology, innovative emerging competitors, and an open-minded, cost conscious consumer. At Loyale, we're honored to partner with health systems and hospitals that are answering the call.
Kevin Fleming is the CEO of Loyale Healthcare
About Loyale
Loyale Patient Financial Manager™ is a comprehensive patient financial engagement technology platform leveraging a suite of configurable solution components including predictive analytics, intelligent workflows, multiple patient financing vehicles, communications, payments, digital front doors and other key capabilities.
Loyale Healthcare is committed to a mission of turning patient responsibility into lasting loyalty for its healthcare provider customers. Based in Lafayette, California, Loyale and its leadership team bring 27 years of expertise delivering leading financial engagement solutions for complex business environments. Loyale currently serves approximately 12,000 healthcare providers across 48 states. Loyale is proud to have an enterprise-level strategic partnership with Parallon which includes the deployment of Loyale's industry leading technology at all HCA hospitals and Physician Groups.