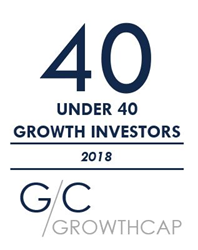 The Top 40 Under 40 are reflective of the breadth of experience and skillsets that make growth investing one of the most exciting asset classes today.
NEW YORK (PRWEB) November 28, 2018
GrowthCap, LLC announced today its fifth annual Top 40 Under 40 Growth Investors list. The list was compiled based both on nominations and a thorough review of each investor's professional background, investment track record, approach to working with portfolio companies, and commitment to firm development. This year's list is presented in three categories (The Partners, The Founders, and The New Guard) and highlights a diverse group of high-performing growth investors across various investment styles.
The 2018 list included several stand out teams as well as individual performers. For instance, the Insight Venture Partners team, now investing out of their recently raised $6.3 billion Fund X, represented some of the most active investors we have seen in recent years. JMI Equity and Great Hill Partners, stalwarts in the world of growth equity, continue to consistently perform at the top of the asset class. Others like TSG Consumer have seen great success as they alter their investment approach to favor digital and technology-enabled derivations of traditional focus areas.
Individual top performers, including TCV's Kapil Venkatachalam, IVP's Jules Maltz and Eric Liaw, and TPG's Tim Millikin boast some of the strongest portfolios in the industry. Lastly, entrepreneurial-minded investors, like Skyview's Alex Soltani and Turn/River's Dominic Ang, continue to yield superior results by leveraging their hands-on, purpose-built approaches to drive value and create disproportionately positive outcomes for their portfolio companies.
From individuals managing large funds with global reach to those that focus on specific industry verticals or transaction dynamics, the Top 40 Under 40 are reflective of the breadth of experience and skillsets that make growth investing one of the most exciting asset classes today.
GrowthCap Managing Partner RJ Lumba discussed the 2018 list, "Year after year we are impressed by the depth of talent in the growth investing world. Those that rise to the top represent a unique combination of not only investment acumen, but also a deep appreciation for all of the key stakeholders involved in a transaction. We started this list five years ago to provide top performing investors visibility and recognition within the broader market. With more focus on the asset class, we believe that growth investors can continue to play a significant role in supporting innovation and sustained economic growth for years to come."
See the full list of GrowthCap's Top 40 Under 40 Growth Investors Of 2018.
About GrowthCap
GrowthCap is an advisory firm focused on family offices and institutional investors seeking to invest in established private companies. While its primary emphasis is on the business software, data and services sectors, GrowthCap will consider special situations outside these areas. GrowthCap professionals have extensive advisory experience and long-standing industry relationships having completed over $3 billion in transactions throughout their careers across a range of transaction types including growth equity, buyouts, shareholder liquidity, debt financings and structured capital.
For more information, visit https://www.growthcap.co