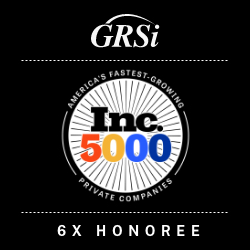 "Every day I am in awe of our teams and our clients, from COVID-19 response and research to national security and beyond, delivering excellence in all they do has been a constant."- David Affeldt, CEO and President
BETHESDA, Md. (PRWEB) August 25, 2020
GRSi CEO and President Dr. David Affeldt said, "We are honored and humbled to be recognized again this year, especially as 2020 has been wrought with challenges, for organizations and people. We've continued our momentum of growth and stability through technical innovation and the agility of our teams, leveraging the same solutions we deliver to our clients for ubiquitous, resilient systems, and support that can adapt and overcome to the constantly evolving new-normal. Every day I am in awe of our teams and our clients, from COVID-19 response and research to national security and beyond, delivering excellence in all they do has been a constant."
Not only have companies like GRSi been very competitive within their markets, but the list as a whole shows staggering growth compared with prior lists as well. Significant growth within GRSi's workforce has also contributed to the Inc. 5000 companies collectively achieving an incredible three-year average growth of over 500 percent.
"The companies on this year's Inc. 5000 come from nearly every realm of business," says Inc. Editor-in-Chief Scott Omelianuk. "From health and software to media and hospitality, the 2020 list proves that no matter the sector, incredible growth is based on the foundations of tenacity and opportunism."
GRSi is a professional services and technology innovations company, providing state-of-the-art solutions across a broad range of requirements, in highly agile yet controlled environments complying with CMMI, SEI, IEEE/EIA standards and Lean Six guidelines supporting critical mission objectives in the DoD, Civilian and Intelligence communities.
We provide IT infrastructure modernization and architecture design, software engineering, technology assessment and insertion, and multi-tier IT Service Management to 10,000 direct users and more than 100,000 indirect users. By leveraging our more than 700 subject matter experts and CMMI/dev-ML3 appraised, ISO 20000:2018 and ISO 9001:2015 audited processes coupled with our Agile best-practices, GRSi delivers excellence. Visit GRSi.com for more information.