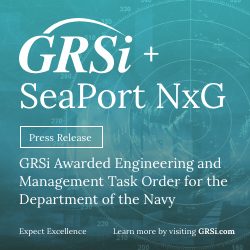 "We couldn't be more excited to provide these services to the Navy and support their mission to protect our nation's shores. This multi-year effort will be an exciting partnership and will lay the foundation for even more opportunities and innovations in the future." – Kelly Baldwin
BETHESDA, Md. (PRWEB) October 09, 2020
Operating within GRSi's Defense Programs Division, this effort matches the company's core offerings of engineering and technology services perfectly. "We couldn't be more excited to provide these services to the Navy and support their mission to protect our nation's shores. This multi-year effort will be an exciting partnership and will lay the foundation for even more opportunities and innovations in the future." – Kelly Baldwin, Vice President of Defense Programs and General Manager of NIWC Operations.
GRSi drives state-of-the-art innovations and solutions across the Civilian, Defense, and Intel communities, as well as the commercial industry. Our professional technical and engineering services deliver next-generation systems engineering, cybersecurity, technology insertion, and best practices-based Enterprise Operations (EOps) management.
Our worldwide top-talent brings proven agility with compliance and innovation with governance. GRSi stabilizes, optimizes, and transforms our clients' environments, realizing their must-have objectives of resilient, reliable, forward-leaning technical efficiencies.
GRSi has delivered excellence in professional and technical services for nearly two decades to federal, defense, intelligence, and commercial clients worldwide. Industry best practices, technologies, and people … excellence delivered daily. For more information, contact media@grsi.com.