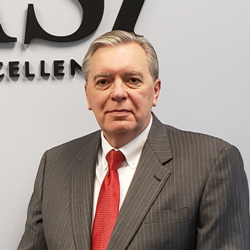 Burnett broadens his portfolio from historically focused to NIWC / SPAWAR, to include all Defense Programs."His legacy of building our NIWC / SPAWAR operations across Navy and Marine Corps clients has been only matched by his development of our capabilities and competencies."- David Affeldt, CEO
CHARLESTON, S.C. (PRWEB) March 02, 2020
Burnett broadens his portfolio from historically focused to NIWC / SPAWAR, to include all Defense Programs at GRSi. This new division under his leadership includes GRSi's growing Military Health Technology Program, and all defense work and contracts, such as our 10-year award on ITES-3S.
Under his leadership, GRSi has seen an ever-widening expansion encompassing every element of Engineering, Technology, Cyber and Performance Based Logistics across their nearly $2B of NIWC Cyber Mission contracts, Seaport-NxG, and more. Burnett will take the helm as GRSi's leading-edge provider of Defense Programs subject matter expertise in all areas of engineering and technology, with hundreds of experts around the country. His focus on client and employee relations, and teaming for true partnerships versus single opportunities, is in lock-step with GRSi's overarching philosophy, and a true differentiator in our industry. GRSi sees our Defense Programs and NIWC operations in the strongest position it has ever been in, and with this further empowerment of Burnett, we envision even greater things for the future, as this new investment and focus brings even greater resources to our Defense Programs division.
"The future for GRSi is truly bright, and with Billy now taking on the leadership of our Defense Programs division, it's even brighter. His legacy of building our NIWC / SPAWAR operations across Navy and Marine Corps clients has been only matched by his development of our capabilities and competencies. We could not have better leadership for today and for the future. We've had incredible results over the years – but we're just getting warmed up."

GRSi drives state-of-the-art innovations and solutions across the Civilian, Defense and Intel communities, as well as the commercial industry. Our professional technical and engineering services deliver next-generation systems engineering, cybersecurity, technology insertion and best practices-based Enterprise Operations (EOps) management.
Our worldwide top-talent brings proven agility with compliance, and innovation with governance. GRSi stabilizes, optimizes and transforms our clients' environments, realizing their must-have objectives of resilient, reliable, forward-leaning technical efficiencies.
GRSi has delivered excellence in professional and technical services for nearly two decades to federal, defense, intelligence and commercial clients worldwide. Industry best practices, technologies and people … excellence delivered daily. For more information, contact media@grsi.com.