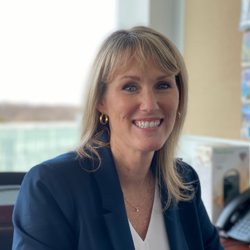 "All of GRSi is excited about the future, our industry award winning record growth and continued investment in our talent, such as Diane, will continue our strength and momentum in 2020 and well beyond."- David Affeldt, CEO
BETHESDA, Md. (PRWEB) February 27, 2020
On the heels of another amazing year of growth, GRSi has formally announced the promotion of Diane Yarnell to Executive VP / Chief of Staff for the CEO. In this capacity she will oversee corporate operations and the Civilian business portfolio, and serve as an extension of the CEO.
In Yarnell's previous role as Corporate VP, she managed the firm's Civilian portfolio, which includes multi-million dollar contracts supporting the NIH's NIDA, NCI, NIA, NEI, NHLBI, NIDDK, ORS/ORF and the Clinical Center, as well as the Centers for Medicare & Medicaid Services (CMS), the Federal Bureau of Investigations, Johns Hopkins University Applied Physics Laboratory and others. Throughout Yarnell's career, she has excelled at employee and client relationships, and as Executive VP and Chief of Staff for the CEO she brings an in-depth knowledge of talent management and integration, program management, performance and quality management, strategic partnering, benefits management, workforce and partner development, and personnel security. She has been with GRSi since 2001, and holds an MBA with a certificate in Organizational Development from Mount St. Mary's University.
"Diane will serve exceptionally in this new role. Leveraging her expertise in client, talent and partner relations, as well as empowering her as an extension of my role, will bring strategic and tactical benefits across the board. All of GRSi is excited about the future, our industry award winning record growth and continued investment in our talent, such as Diane, will continue our strength and momentum in 2020 and well beyond." - David Affeldt, CEO
GRSi drives state-of-the-art innovations and solutions across the Civilian, Defense and Intel communities, as well as the commercial industry. Our professional technical and engineering services deliver next-generation systems engineering, cybersecurity, technology insertion and best practices-based Enterprise Operations (EOps) management.
Our worldwide top-talent brings proven agility with compliance, and innovation with governance. GRSi stabilizes, optimizes and transforms our clients' environments, realizing their must-have objectives of resilient, reliable, forward-leaning technical efficiencies.
GRSi has delivered excellence in professional and technical services for nearly two decades to federal, defense, intelligence and commercial clients worldwide. Industry best practices, technologies and people … excellence delivered daily. For more information, contact media@grsi.com.