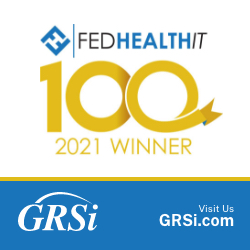 "I want to thank FedHealthIT for this important distinction, which is a true reflection of our entire team at GRSi."
BETHESDA, Md. (PRWEB) November 12, 2020
The FedHealthIT100 honors those individuals recognized for driving change and advancement in the Federal Health Information Technology and Consulting Market. Nominated and chosen by their peers, some common themes among those who were selected include the desire and willingness to challenge conventional wisdom, to go above and beyond, to drive innovation, and to give back to the larger Federal Health IT and Consulting community.
"I'm proud that the important work we provide to support our customers' missions is being recognized by the IT community," said Dr. Affeldt. "I want to thank FedHealthIT for this important distinction, which is a true reflection of our entire team at GRSi."
Dr. Affedlt was named CEO of the Year in 2019 by the Maryland Tech Council, marking his second time as a nominee and recognizing him as a true business leader in Maryland's technology industry. In addition, G2Xchange recognized Dr. Affeldt and GRSi as a top Federal Emerging Technology and Consulting firm in the Government marketplace for 2020.
GRSi drives state-of-the-art innovations and solutions across the Civilian, Defense, and Intel communities, as well as the commercial industry. Our professional technical and engineering services deliver next-generation systems engineering, cybersecurity, technology insertion, and best practices-based Enterprise Operations (EOps) management.
Our worldwide top-talent brings proven agility and innovation while maintaining compliance and governance. GRSi stabilizes, optimizes and transforms our clients' environments, realizing their must-have objectives of resilient, reliable, and forward-leaning technical efficiencies.
GRSi has delivered excellence in professional and technical services for nearly two decades to federal, defense, intelligence, and commercial clients worldwide. Our subject matter experts, refined processes, and best-fit technology implementations ensure that excellence is delivered daily. For more information, contact media@grsi.com.