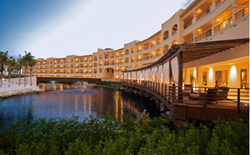 BENITO JUAREZ, Mexico (PRWEB) October 24, 2018
Cancún, Quintana Roo - Tourists from all over the world seek the opinions of other guests and the endorsement of international certifications that reward quality, as a sign of reliability. RCI, World Travel Awards and Travel Weekly are among the most important travel industry players, and they have awarded the highest honors to Sunset World Resorts in 2018.
Sunset World hotels recently received the Gold Crown award from Resorts Condominiums International (RCI), the world's leading vacation club exchange company, for outstanding qualifications in quality, hospitality, maintenance, amenities and service. Sunset Marina Resort & Yacht Club, Hacienda Tres Ríos Resort, Spa & Nature Park and Sunset Fishermen Beach Resort proudly earned the Excellence in Service award, a distinction which less than 11% of the hotels affiliated with RCI receive. Additionally, Sunset Fishermen Beach Resort received the Premier All-Inclusive award.
Sunset Marina Resort & Yacht Club earned the Distintivo H certification for food quality, hygiene and care in its restaurants and bars.
Hacienda Tres Ríos Resort, Spa & Nature Park was honored with Gold and Silver at the Magellan Travel Weekly Awards, which are given to the best of the hotel industry and its professionals. Gold was awarded for Best Green Hotel and Silver for Best Family Hotel.
In the World Travel Awards (WTA), a worldwide recognition of excellence in all sectors of the tourism industry based on votes, regionally Hacienda Tres Ríos Resort, Spa & Nature Park was voted Best All-Inclusive Resort in Mexico and Central America and Best Hotel for Families in Mexico and Central America in 2018.
In September Hacienda Tres Ríos earned additional nominations in the 2018 international WTAs in the categories of Best All-Inclusive Hotel in the World and Best Family Hotel for Families in the World. Voting began on September 10 and will end on October 24.
As an award-winning hotel company, Sunset World will continue to work hard to win awards, maintain its leadership in the vacation club industry in the Mexican Caribbean and, most importantly, always guarantee that its guests and members experience extraordinary vacations.