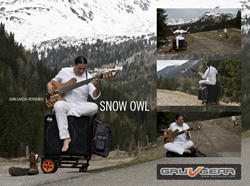 If you're gonna GRUV, you gotta bring your GEAR ! The V-Cart Solo and the Stadium Bag are the BOMB! No matter where, including Snow Owl's nest at 3,000 meters above sea level, Gruv Gear delivers Check it out!
Orange County, CA (PRWEB) March 31, 2015
The Snow Owl flies Low...
Juan Garcia-Herreros, also known by his stage name "Snow Owl", is a Colombian born world-renowned electric bassist. With his special instrument, a six-string Contra Bass Guitar, he has performed with world famous stars of all genres - including several Grammy/Oscar award winners and nominees. For his own music, he has been honored with numerous prestigious awards. His work and virtuosity with the Contra Bass Guitar has been received with the highest recognition from international Bass and Music publications.
About Gruv Gear:
Gruv Gear exists to bring innovative and well-thought out products to creative professionals and beyond, including career musicians, DJs, photographers, filmmakers, mobile producers and more. The company is on-track not only to become a premium lifestyle accessories brand in the Music/DJ and Photo Industries, which is a small fraction of its potential market, but also expand to a broader range of industries that will increase its global footprint exponentially. To date, Gruv Gear products are sold in 5 continents and shipped directly to adoring fans worldwide.