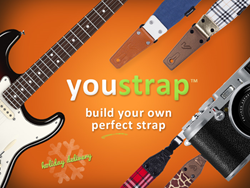 The possibilities are nearly endless... Create your unique designs by choosing the tips, connectors, body, tail and hardware – in any combination you wish.
Orange County, CA (PRWEB) October 01, 2014
California-based Gruv Gear, designer and manufacturer of innovative accessories for musicians and photographers, announces the launch of the YouStrap on Kickstarter. The YouStrap is a fresh DIY (Do-It-Yourself) approach to the old guitar and camera strap, allowing users to design and build their own unique custom strap by mixing-and-matching parts. The project received the esteemed "Staff Pick" status on the popular crowd-funding website just 1 day after its launch.
"The YouStrap is quite possibly the most fun you'll ever have picking out your guitar or camera strap," exclaims Jay Baldemor, founder of Gruv Gear and inventor of the patent-pending YouStrap. "The possibilities are nearly endless – You can create your unique designs by choosing the tips, connectors, body, tail and hardware – in any combination you wish. Go wild, go conservative - It's up to you. Swap out parts any time and create new styles and looks, all within a few minutes!"
Some of the strap colors and patterns being showcased on the Kickstarter page include matte colors, animal faux fur, metallics, reptile skins, plaids, canvas, leather, and more. Combined with an assortment of colorful adjustable webbing tail straps and choice of black or silver hardware, the final design can truly be a unique expression of the individual. Furthermore, all YouStrap rewards include 3 additional parts to help jumpstart users with customizing. The catalog of colors and themes is expected to grow, and parts will be available for purchase separately and individually after the campaign, allowing owners to swap parts and give a whole new look to their existing strap.
Jay adds, "We've decided to release this unique product on Kickstarter to get a feel for what people want, and give them a chance to support the release of even more styles and colors. Basically, the more support we receive, the more styles will be made available. Not only that, we are offering the YouStrap kit at a very attractive price to Kickstarter backers."
The YouStrap also addresses the lack of guitar strap options for kids and youth. Most straps are simply too long for smaller players. By simply choosing a short body, they get a professional (and fun!) guitar strap never before available in their size.
For more information on Gruv Gear and its thoughtful line of music accessories, visit http://www.gruvgear.com.
To learn more about the YouStrap campaign on Kickstarter, visit http://www.youstrap.com.
About Gruv Gear
Gruv Gear exists to bring innovative and well-thought out products to creative professionals and beyond, including career musicians, DJs, photographers, filmmakers, mobile producers and more. We are on-track not only to become a premium lifestyle accessories brand in the Music/DJ and Photo Industries, which is a small fraction of our potential market, but also expand to a broader range of industries that will increase our global footprint exponentially. To date, Gruv Gear products are sold in 5 continents and shipped directly to adoring fans worldwide.