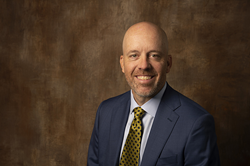 ATLANTA (PRWEB) July 20, 2020
Sean Taylor, Managing Partner of Smith & Howard, was recently named the recipient of the Georgia Society of Certified Public Accountants' 2020 Public Service Award.
According to the GSCPA, the annual Public Service Award recognizes a member who has distinguished himself or herself in public service activities at the local, state, regional or national level. GSCPA said it was honored to present Taylor, a long-time member of the GSCPA who served on the inaugural GSCPA Leadership Academy, with the award.
Taylor's passion for service is reflected in both his professional and personal life. He co-founded the firm's nonprofit practice because he saw a need for nonprofits to be served by a firm that had deep business expertise coupled with a heart for the nonprofit community.
Taylor devotes a great deal of his personal time to helping the community around him. An active volunteer in both educational and religious organizations, he is a multi-year member of six committees at Dunwoody United Methodist Church (DUMC), chairing three of those committees, and has helped both DUMC and other church organizations raise and better manage funds to fully serve their members and communities.
Since 2017, Taylor has served on the Finance Committee for Wesleyan School, a private K-12 college preparatory school. In 2019, he joined the Investment Committee and began a five-year term on the school's Board of Trustees.
In 2012, Taylor co-founded FoodStock, an annual food packaging event in Dunwoody, Georgia, where over 1,000 community members come together to package over 300,000 meals in one day for children in school feeding programs around the globe. Since its founding, FoodStock has been responsible for packaging 2.5M meals. Additionally, for the past six years, Taylor has served as a mentor to a group of teenage boys through a group he co-founded called Fit 4 Life. This group meets weekly to discuss aspects of faith and life.
Taylor's commitment to family, work and public service is evident in his daily life and a strong foundation for this distinguished recognition.
About Smith & Howard
Smith & Howard is a top Atlanta accounting and advisory firm serving businesses in the construction, manufacturing, distribution, real estate, nonprofit, hospitality, health care and technology sectors. Services include audit and tax, strengthened by sales and use tax, international tax consulting, enterprise risk services, SOC reporting, technology consulting and process automation, among other offerings. More information is available on the firm's website at http://www.smith-howard.com.