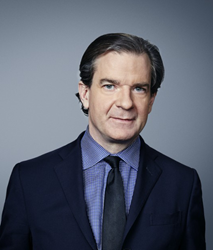 Our Board of Directors is full of impressive resumes. This is an experienced and motivated group.
Tampa, FL (PRWEB) August 15, 2017
The Global Special Operations Forces (SOF) Foundation is honored to announce the election of CNN's Peter Bergen as chairman of its Board of Directors.
Bergen, who is considered "one of America's most prominent terrorism experts," is an accomplished journalist, documentary producer, author, and educator. His unique experiences researching and covering the military and terrorism include a historic 1997 interview with Osama Bin Laden. He came to the Global SOF Foundation by way of his recent documentary, "Legion of Brothers."
In 2013, Special Forces Colonel Stu Bradin, in support of a perceived lack of films that accurately depicted the human aspect of SOF, wanted a documentary made about the Army Special Forces in Afghanistan immediately following the attacks of September 11th. Bradin and his team met with Bergen who, along with his wife Tresha Mabile, decided to produce the documentary; it was titled "Legion of Brothers" and was released this year to rave reviews.
Bradin went on to retire from the Army and form the Global SOF Foundation, a non-profit organization this is now three years old, and the only professional association for international SOF. Over the years, Bradin and Bergen stayed connected and Bergen grew to be a vocal advocate of the Foundation.
That relationship was made official this year, with his election as the Chairman of the Global SOF Foundation Board of Directors, a five-person team that has the fiduciary responsibility for the organization.
Bergen is in good company on the Board; the other members come from complementary yet unique backgrounds and experiences, providing a focused team to guide the Global SOF Foundation.
Lori Larsen brings in a combination of mental and physical athleticism; she was raised as a Pentathlon competitor, served as an intelligence officer in the US Army, and is now the Chief Strategy Officer at Celestar Corporation, a Small Business Partner of the Foundation.
Brian Goodwin, a veteran of the US Navy, worked as the Director of Logistics for US Special Operations Command before his retirement. He now works for the engineering firm Parsons and brings unique ideas, positive energy, and military experience to the Global SOF Foundation.
Dr. Keenan Yoho has led an exciting career in education, working in both commercial and public sector environments--to include several years at U.S. Special Operations Command. Currently a Professor at Rollins College, he brings an academic perspective to the Board.
Al Di Leonardo is a former intelligence and special operations officer who utilized his military training to successfully found and sell two companies in the private and public marketplaces. His business acumen and experience in defense make him an ideal fit to help guide the Global SOF Foundation.
Stu Bradin, the Global SOF Foundation CEO, and Meaghan Keeler-Pettigrew, the Chief Operating Officer, are also members of the Board of Directors.
Read more about the Global SOF Foundation Board of Directors on our Blog: http://bit.ly/GSFBoardBlog,
or read their full biographies on our Executive Team page: http://bit.ly/GSFBoardBios.
---------------------
The Global SOF Foundation is a 501(c)(3) non-profit organization and the only professional association for the international Special Operations community. The Foundation mission is to both advocate for SOF resourcing and convene the SOF community.
https://globalsoffoundation.org/