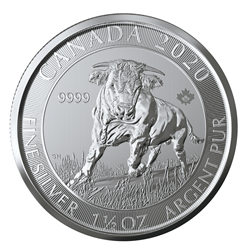 We are very lucky to have been chosen by the Royal Canadian Mint to be the first retailer to offer these coins to our clients. The prices are too low to publish, and these coins will only be available for a limited time.
CALABASAS, Calif. (PRWEB) November 11, 2019
GSI Exchange, a top-rated coin, bullion, and precious metals dealer based in Calabasas, California, in coordination with the Royal Canadian Mint, recently announced the exclusive sale of the highly anticipated, limited edition 2020 $8 1-1/2 oz Silver Bull Coin.
The reverse of the coin depicts the powerful and inspiring Aquitaine Bull, aptly described as the "Silver Bull," designed by famous Canadian artist Steve Hepburn. The coin's stunning obverse features Queen Elizabeth II shown in the right-side profile, along with the year and face value.
The coin contains 1-1/2 oz. of .9999 fine silver and bears an 8 Dollars (CAN) face value.
There is a considerable investor and collector interest in this first run of the 2020 Silver Bull Coin! GSI Exchange has the exclusive opportunity to offer the coins to its customers and clients before any other coin or precious metals dealer at the lowest prices available anywhere.
Silver is up 13% year to date. Although the prices of silver and gold in a distinct upward trend, the gold to silver ratio is hovering around 83.3, meaning it requires 83.3 ounces of silver to buy one ounce of gold. Many experts believe the current ratio means gold is expensive relative to silver, meaning that silver is undervalued and represents a superior investment at this time.
"We believe this IRA-eligible, investment-grade silver bullion coin is the best opportunity available in today's precious metals market, and silver remains an uncommon investment value at these prices," explains Anthony Allen Anderson, Senior Partner at GSI Exchange. He continues, "Brexit indecision, U.S. political volatility, Middle East instability, China's economic challenges, and the Federal Reserves injection of billions of dollars into the Overnight Repo Market are sparking renewed interest in precious metals, a commodity which has historically been the most effective hedge against economic and political uncertainty. The Silver Bull is ready to ride."
The Royal Canadian Mint describes the coin as follows; "With a stance as commanding as the bronze bull of Manhattan's Wall Street District, this Aquitaine Bull brings its own breed of economic optimism and strength to this bullion coin. The characteristic upswing of a charging bull's horns symbolizes the rising stock prices of a "bullish" growth investment market. The bull is in direct contrast to the downward slash of a bear's paw during a "bear market" where decreasing stock values warrant caution until the trend reverses."
"The Aquitaine Bull has been valued by farmers as long ago as the Middle Ages in the French Aquitaine District. U.S. and Canadian ranchers began discovering the breed in the early 1970s, and quickly embraced its easygoing and hardy nature, and its ability to forage on rocky or sparse terrain. The Blonde Aquitaine Bull is a moderate-sized breed that delivers excellent returns due to its high growth rate, lean muscling, and calving success. It's an enduring and dependable breed that promises to build a momentum of optimism and confidence well into the 21st century!"
In 2016, for the first time in its history, the Royal Canadian Mint instituted a unique Bullion DNA process to protect buyers and sellers of Gold and Silver bullion from coin counterfeiting.
The Bullion DNA device works by reading a micro-engraved security mark appearing on the reverse of the coin. The mark, consisting of a textured maple leaf and the last two numerals of the coin's production year, visible only under magnification, is laser-engraved on the dies, which are used to strike these coins. Each die is registered in a secure database after a microscopic view of the mark is captured and converted into a complex, encrypted digital code using the Mint's digital non-destructive activation (DNA) technology. When a genuine coin is placed in the Bullion DNA device, it can read the security mark like a fingerprint and match it to a registered Royal Canadian Mint die.
The expected low-mintage, unique anti-counterfeit protection, and strong collector and investor demand for these limited-edition coins are all factors that can contribute to price appreciation significantly higher than the intrinsic value of the metal.
"The 'Silver Bull' has quickly become our most popular coin release in recent memory, and supplies are very scarce," says Anderson, "we are very lucky to have been chosen by the Royal Canadian Mint to be the first retailer to offer these coins to our clients. The prices are too low to publish, and these coins will only be available for a limited time, so we urge new and current clients to contact us immediately to secure their order."
About GSI Exchange
Founded by industry veterans, GSI Exchange is a leading national coin and precious metals company specializing in wholesale precious metals trading as well as direct sales to the general public. The GSI Exchange investment management team has over 75 years of combined market experience and relationships with most of the biggest suppliers around the world.
With experience successfully placing more than $1 billion in commodities and precious metals transactions around the world, GSI Exchange offers clientele a full range of customized precious metals portfolios and physical precious metals Individual Retirement Accounts (IRAs).
GSI Exchange has an almost unlimited inventory of the highest-quality silver, gold, palladium, and platinum coins at the most competitive prices.
For more information, visit https://gsiexchange.com/ or call 1.800.474.9159