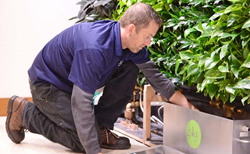 DELRAY BEACH, Fla. (PRWEB) August 01, 2019
GSky Plant Systems, Inc., a global industry leader in the design and production of interior and exterior green walls, highlights its industry-leading maintenance program for Versa Wall® living green wall systems.
Proper care for the living green walls is essential for the living design's longevity. The walls must be easily accessible, and standard care should be performed on an ongoing basis. To remain compact, plants must be properly pruned and cleaned. Regular fertilization ensures plants maintain the desired levels of color and vibrance. Effective maintenance holds living wall systems in check, keeps plants healthy, and preserves the intended aesthetics of each wall.
GSky® offers an industry-leading comprehensive 3-point maintenance program with hardware coverage, standard on all walls for the first year after installation and available after that period ends. As part of GSky's maintenance program, GSky® living wall experts regularly visit living green walls to ensure appearance. Periodically, GSky® trained technicians perform a battery of intermittent tasks to ensure excellent plant health, ideal moisture levels, and proper system functionality. With the only plant guarantee in the industry, GSky® replaces any plant attrition with healthy substitutes.
Since irrigation is essential for plant survival, irrigation systems, and drainage systems are maintained. Wall components, such as tanks, trays, filters, and fasteners, are also inspected and cleaned. GSky® trained technicians perform occasional lighting reviews, adjusting timers and fixtures when needed to ensures plants receive adequate light.
The Versa Wall® living green wall system by GSky® is designed for simple maintenance. An alternative to walls using pre-grown panels, GSky's Versa Wall® allows for plants to be easily maintained and replaced with no mess due to the flexibility of the 4-inch pots that are placed directly into the system's trays without any "re-potting." With patented vertical irrigation technology, the Versa Wall® only requires water every 8 – 10 days.
Proven GSky® systems, backed by a trained network of maintenance providers, can succeed at locations where a living wall is creatively installed. Prior to installation, GSky® and GSky® dealers work with customers to select appropriate plants, allow effective access for maintenance, and ensure proper lighting conditions to ensure living wall vitality.
For more information about GSky's Versa Wall®, visit https://gsky.com/versa/.
###
About GSky Plant Systems, Inc.
Versatile. Reliable. Proven.
Founded in 2004, GSky Plant Systems, Inc. is a leading provider of vertical Living Green Walls in North America, Europe, Australia and the Middle East in our 15th year in business. The company was founded based on the explosive growth of green technology. GSky® Living Green Walls are irrigated by low flow drip emitters on programmable controllers and in many cases can be equipped with recycling components to create an extremely efficient low water usage system. GSky® has offices in Delray Beach, Florida and Vancouver, British Columbia, with sales offices in Denver, Colorado; San Clemente, California; San Antonio, Texas; and Hamburg, Germany. GSky's Versa Wall®, Versa Wall® XT, Pro Wall®, and Basic Wall® systems offer indoor and exterior options for most environments. For more information about GSky Plant Systems, visit https://gsky.com, call 561-894-8688, or email marketing@gsky.com.
Follow GSky® on Instagram and Twitter, visit GSky's Facebook fan page, and subscribe to GSky's YouTube Channel.