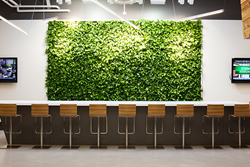 The beautiful vertical garden is a perfect display of Cannondale's commitment to green initiatives as well as the company's 'passion for creating inspired experiences for a fun, healthy world.
Norwalk, Connecticut (PRWEB) March 18, 2014
GSky Plant Systems, Inc., a leading provider of Vertical Green Wall Systems in North America and the Middle East, recently spruced up Cannondale Sports Unlimited's Norwalk, Conn. office with a beautiful 180 sq. ft. living Green Wall. The Green Wall was incorporated into the new office's staff common area.
Featuring 1,080 Epipremnum Aureum 'Neon' plants, the new Green Wall is situated behind a long, open bar table where staff can gather to relax and unwind. Upon entrance to the new office, the verdant Green Wall can be seen down a corridor, serving as a focal point that welcomes the staff.
"The beautiful vertical garden is a perfect display of Cannondale's commitment to green initiatives as well as the company's 'passion for creating inspired experiences for a fun, healthy world,'" says Chad Sichello, President of GSky Plant Systems, Inc. "Through vertical gardening, nature is brought from the outside to the indoors. It sets the tone for the type of working environment that promotes health and well-being."
There are many proven health benefits that come from Green Walls, including improved air quality as well as improved health and wellness.
Air Quality Benefits:

Natural Air Filter: Green Walls' plants improve the air quality indoors and out by naturally filtering out air. They are natural sponges for dust and toxins in the air.
Increase Energy-Rich Oxygen & Reduce CO2: The process of photosynthesis consumes CO2 and releases O2, which gives people more energy-rich oxygen.
Health & Wellness Benefits:
Stress Reduction & Relaxation: Studies show that exposure to plants can leave people feeling more relaxed, calm and less stressed. They help ease physiological and psychological pressures of city life by providing a spiritual and physical connection to nature.
Increased Productivity: People have been shown to feel more productive and creative when they are around plants.
Employee Attendance: The percentages of absenteeism and Sick Building Syndrome (SBS) have also been shown to decrease with presence of indoor plants. SBS describes adverse health effects that are linked to time spent in the building. Indoor environments may be as much as 10 times more polluted than an outdoor environment. The plants on the Green Wall can remove toxins in the air.
"As we spend less time outdoors, we become more disconnected from the natural world that is essential for our emotional, physical and mental well-being," Sichello says. "A Green Wall is a great example of bringing nature back into our lives, as well as life and harmony to human-made structures."
GSky's Versa Wall System is user-friendly and easy to install and maintain for any interior Green Wall. It employs four-inch industry standard pots that can be placed directly into the Versa Wall Tray to ensure instant plant coverage, offering flexible installation options and a variety of plant selections. The Versa Wall is eco-friendly, customizable, durable and economical. Additionally, it has a recirculating irrigation system that is 100% water efficient and self-contained.
About GSky Plant Systems, Inc.
Founded in 2004, GSky Plant Systems, Inc. is a leading provider of vertical Green Walls in North America and the Middle East. The business was founded based on the explosive growth of green technology, including Green Wall and Roof Systems in Asia. GSky currently offers three Green Wall Systems, the Pro Wall, Versa Wall and the Basic Wall. Each system is unique in terms of design flexibility, installation location versatility, plant selection variety, desired size, cost, coverage time-line, and system components. GSky strives to make plant systems more accessible and functional in urban environments while having a net positive impact on the environment. For more information visit us at http://www.gsky.com, "Like" us on Facebook at facebook.com/gskyplantsystems or follow @gskygreenwalls on Twitter.