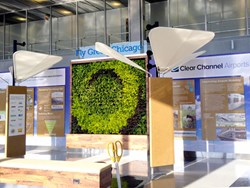 As airport facilities work toward reducing our environmental impact, Green Walls are fantastic displays that represent an airport's commitment to green initiatives
(PRWEB) February 18, 2014
GSky Plant Systems, Inc. is proud to showcase their latest installation of a living plant wall in O'Hare International Airport, a major international airport in Chicago. GSky has installed Green Walls in several airports across North America, and O'Hare International is one of the latest airports to go green with the addition of a vertical Green Wall.
Living walls are an innovative way to create living art using plants, and can transform even the gloomiest space into a relaxing oasis in the middle of a busy travel hub. The Green Walls are meant to transform the concept of airport environments, making the interiors a more relaxing place for travelers, especially during long delays.
At O'Hare International Airport, the living wall from GSky is now a permanent feature part of the Fly Green Chicago Exhibit. Fly Green Chicago is a new exhibit opened by the Chicago Department of Aviation to showcase the department's industry-leading green initiatives at both O'Hare and Midway International Airports.
"As airport facilities work toward reducing our environmental impact, Green Walls are fantastic displays that represent an airport's commitment to green initiatives," said Chad Sichello, President at GSky Plant Systems, Inc.
The exhibit features a permanent centerpiece of a GSky Green Wall to illustrate CDA's commitment and dedication to sustainability. The Green Wall is 100 sq. ft. and contains 440 plants, including Heart Leaf Philodendron, Neon Pothos, Silver Satin Pothos and Ripple Red Peperomia. The Green Wall is located in Terminal 3 in the corridor between Concourse K and I.
There are many benefits to having a living Green Wall inside a building. The plants on the Green Walls can remove toxins in the air, and capture dust. The process of photosynthesis consumes CO2 and releases O2, which improves the quality of air and provides more energy-rich oxygen.
The backbone of the Green Wall technology is GSky's Versa Wall System, which is user-friendly, easy to install and maintain for any interior Green Wall. It employs 4-inch industry standard pots that can be placed directly into the Versa Wall tray to ensure instant plant coverage, offering flexible installation options and a variety of plant selections. The Versa Wall is eco-friendly, customizable, durable and economical. Additionally, it has a recirculating irrigation system that is 100% water efficient and self-contained, making it a perfect addition for a large public space such as an airport.
About GSky Plant Systems, Inc.
Founded in 2004, GSky Plant Systems, Inc. is a leading provider of vertical Green Walls in North America and the Middle East. The business was founded based on the explosive growth of green technology, including Green Wall and Roof Systems in Asia. GSky currently offers three Green Wall Systems, the Pro Wall, Versa Wall and the Basic Wall. Each system is unique in terms of design flexibility, installation location versatility, plant selection variety, desired size, cost, coverage time-line, and system components. GSky also offers a suite of services including maintenance, remote monitoring, and consulting as full-service contracts or à la carte. GSky strives to make plant systems more accessible and functional in urban environments while having a net positive impact on the environment. For more information visit us at http://www.gsky.com, "Like" us on Facebook at facebook.com/gskyplantsystems or follow @gskygreenwalls on Twitter.