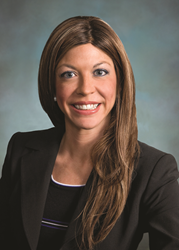 Phoenix, AZ (PRWEB) December 07, 2016
Dana Hooper, a shareholder and attorney at international multi-practice law firm Greenberg Traurig, LLP, will serve as a Faculty Associate at Arizona State University Sandra Day O'Connor College of Law and WP Carey School of Business commencing in Spring 2017.
Hooper, who also represents several professional athletes, will teach a three-credit Sports Law & Business course to law and business school students.
Hooper, while focusing her practice in employment law, commercial litigation, and sports law, is a certified athlete's agent and provides legal representation to sports-oriented individuals and businesses. Every year since 2012, Hooper has been recognized as a "Rising Star" by Super Lawyers magazine. According to the publication, the annual selections are made using a patented multiphase process that includes a statewide survey of lawyers, an independent research evaluation of candidates and peer reviews by practice area. The Rising Stars list recognizes no more than 2.5 percent of attorneys in each state.
"Dana provides extensive knowledge and guidance to her clients. I can't think of a more suitable person to convey her experience and passion for sports and law with students at Arizona State University," said Nicole Goodwin, administrative shareholder and litigation practice leader in Greenberg Traurig's Phoenix office. "We at Greenberg Traurig are thrilled to support Dana in this role and share her expertise with the next generation of lawyers."
About Greenberg Traurig's Phoenix Office
In Arizona, Greenberg Traurig counsels clients on a wide range of critical issues, such as dispute resolution, securities, labor and employment, real estate, public finance, bankruptcy, and intellectual property matters.
About Greenberg Traurig, LLP
Greenberg Traurig, LLP is an international, multi-practice law firm with approximately 2,000 attorneys serving clients from 38 offices in the United States, Latin America, Europe, Asia, and the Middle East. The firm is No. 1 on the 2015 Law360 Most Charitable Firms list, second largest in the U.S. on the 2016 Law360 400, Top 20 on the 2015 Am Law Global 100, and among the 2016 BTI Brand Elite. More information at: http://www.gtlaw.com.