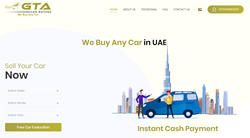 GTA Car Buyers helps to Sell Any Car Within 30 minutes
DUBAI (PRWEB) September 02, 2020
The new user-friendly website is typically designed for customers for seamless deals. Many of us don't know how to sell or buy a used car. The process of selling your car is always tedious and hectic but with GTA Car Buyers, rest assured, you got yourself a good deal. Worried about the long procedures and paper filing, well, with one single visit to our showroom, you can sell car. We help you determine a fair selling price for your vehicle. However, keep in mind that the selling price will always be higher by comparing with the other car buying companies in the UAE.
Rather than searching on the web on how to "sell your car" "sell used car" or "sell car", all you need to do is just visit our website or our showroom. With our user-friendly interface along with the online price car evaluator you got all the details you need on how to sell your car. If all the documents are set right and in accordance ,you can sell any car within 30 minutes. The amount will be transferred to your account on the same day itself. We have a team of experts for prompt and professional service! From inspection and documentation to paper works till payment. You will be delighted with the quality of our service provided by our team of experts.
GTA Car Buyers is here to make a difference. Experience to sell used car would be better than anything which you have experienced anywhere in the UAE. All it takes in a single visit to any of our branches for a hassle-free deal of selling your used car in Dubai,UAE.
GTA Car Buyers acts as a platform to sell the desired vehicles with immediate effect. We are a provider of transaction facilitation services with instant money transfer facilities so that the customer can comply with a hassle-free deal with us.
To learn more about GTA Car Buyers and its services, get in touch: https://www.gtacarbuyers.com/
ABOUT GTA CAR BUYERS
GTA Car Buyers is one of the prevailed car dealers for selling cars in Dubai. We have a decade of experience in selling used Cars. The policy adopted by our company in selling cars is the one and the best in the automobile market base. We offer a commodious range of potential purchases in various locations in Dubai with the best available rates. We are always happy to assist you in every aspect. Our clients can expect tremendous support from the experts of our company showrooms.