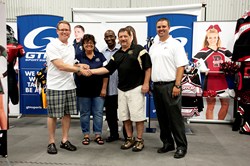 Manhattan, Kan. (PRWEB) August 01, 2013
GTM Sportswear® (GTM), a leading provider in custom-embellished team uniforms, warm-ups and practice apparel, and United Youth Football and Cheer (UYFL) are pleased to announce a strategic three-year partnership starting July 2013.
UYFL, based out of Chicago, Ill., was established as a youth organization with goals to create better young men and women, provide an athletic outlet through football and cheerleading and encourage all participants to strive for a college education. UYFL has conferences based in 33 states around the country and continues to grow.
"United Youth Football and Cheer is proud to welcome GTM Sportswear to our family," said Tony Arena, owner and director of UYFL. "We are so excited for this partnership. We met the whole GTM family - they share our beliefs as well as our need to help our cheer groups save money for the best quality products on the market."
GTM, named the "Official Uniform and Spirit Wear Provider for Cheerleading" for the UYFL program, will be the preferred apparel supplier for all UYFL spirit teams starting in 2013. GTM will also provide a jacket for each participant in the UYFL national championship event during each contracted year.
"We're excited to create a longstanding partnership with UYFL" said Larry Harper, vice president of sales for GTM Sportswear. "We're proud to support UYFL in their mission: teaching kids to love the game while creating better student athletes. We look forward to forming lasting relationships with their members."
To learn more about GTM Sportswear, visit http://www.gtmsportswear.com/about.
###
About GTM Sportswear:
GTM Sportswear, headquartered in Manhattan, Kansas, is a national provider of custom-embellished uniforms, warm-ups and practice apparel for college, school, and club sports teams. Founded in 1989, the company employs more than 850 people, including a nationwide sales team and an inside support team. For more information, visit http://www.gtmsportswear.com.