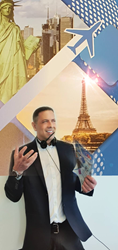 "Our aim is to create a win-win scenario with professional partners having their own unique products and existing regional distribution network," said Laurent Maytal GTT Group CEO.
SINGAPORE (PRWEB) February 14, 2020
GTT Global Travel Trade ("GTT"), the Singapore based travel products aggregator, announced today it has signed a major distribution agreement with UAE based Trails of Eurasia LLC.
The agreement provides for Trails of Eurasia to distribute GTT"s comprehensive product portfolio to its travel agent customers in the United Arab Emirates, Saudi Arabia, Qatar, Kuwait, Oman, Bahrain, Azerbaijan, Georgia, Uzbekistan, Kazakhstan and India through its online sub-agent booking system "GT Trade".
Agents will be able to access best available rates for more than 900,000 hotels worldwide alongside over 500,000 tours and attractions and airport transfer services in every major destination. The agreement also provides for Trails of Eurasia to upload and distribute its own unique packages and other content to the entire GTT network of thousands of agents around the world.
"Our aim is to create a win-win scenario with professional partners having their own unique products and existing regional distribution network," said Laurent Maytal GTT Group CEO. "Joining forces and combining exclusive local packages with our vast global standard inventory will be a great advantage to our worldwide partners in terms of rates and product range"
"Trails of Eurasia is certainly excited about this cooperation with GTT, harnessing the power of technology and also rates that are very attractive to aid the travel industry in the regions and countries that we have been exclusively appointed for. This will create for more product variety too when our products package and rates are uploaded in addition to the currently available inventory, products and rates that GTT already has in the system. We have already seen great interest from the travel industry in United Arab Emirates, Georgia, Azerbaijan and Uzbekistan on the portal usage and products/rates availability and I am sure we will continue to grow the user base in the months forward as our marketing and development efforts intensifies …. Said Jason Lim, Trails of Eurasia CEO "
About GTT
GTT, Global Travel Trade, is the fastest growing B2B wholesaler in Asia, specialized in the distribution of land products.
With its fully automated online presence and its offices in Singapore, Hong Kong, Thailand & the Philippines & Cambodia GTT is at the forefront of the new travel wholesale distribution in Asia.

More than 900,000 Worldwide Hotels with instant confirmation
Over 500,000 Worldwide Tours and Sightseeing
Transfer services in every city in the world
Our first commitment is you!
Our patrons are professional Travel Agents with high obligations to their own clients. When you book through GTT, we take this commitment very seriously. GTT's country teams are continuously trained to monitor and check the reservations, products, rates and agent requirements. Our goal is to make sure your clients will have a smooth experience whether it's for the hotel check-in or the airport transfer. We believe that this is the only foundation for a solid working relationship.
The Value of Experience
Accessible 24 hours a day, 365 days a year.
Online connectivity to over 900,000 hotels and more than 500,000 activities and transfers worldwide with instant confirmation.
Dedicated local sales manager and local team with ongoing support.
Real-time online booking confirmations.
Multi-currency rate options.
Online statement of account.
Online invoicing.
Detailed booking reports.
XML Interface.
Up-to-date product images, descriptions, amenities, location and interactive maps.
Vouchers branded with agent's logo.
About Trails of Eurasia
Operating in the Middle East, Caucasus Regions and Central Asia, Trails of Eurasia is founded by travel and hospitality professionals to provide all travel related services such as hotel bookings, transfers, experiences and tour packages with great value and exceptional services, harnessing the power of technology and using the personal human touch to deliver great experiences for leisure, MICE, thematic travels, whether for travel agent partners, individual or group travellers. Our destination services offering covers Azerbaijan, Georgia, Uzbekistan, Kazakhstan, Turkey and the United Arab Emirates currently with more destinations being planned due to our loyal and supportive agent partners and travellers.