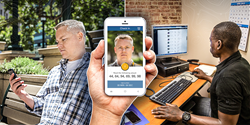 Louisville, KY (PRWEB) August 24, 2017
Corrections technology leader Telmate, a wholly-owned subsidiary of Global Tel*Link Corporation, announced today Dismas Charities, Inc.'s adoption of Telmate Guardian – a technically advanced, low-cost, smartphone-based, GPS monitoring solution – for their re-entry residents. Telmate Guardian provides a secure and easy way to monitor more individuals and maintain a documented record of accountability through the use of a smartphone.
Early this year, Dismas completed a Guardian pilot with five of their offices. In March, they began using the monitoring solution with residents of their other twenty-three offices across the United States. Dismas works with a range of government and nongovernment organizations to assist individuals and other partners in the re-entry field.
"So far, the feedback has been positive," reports Regional Vice Presidents Dan Judiscak and Joe Driver. "Prior to Guardian, we used traditional electronic monitoring and GPS requiring our residents to have an ankle bracelet. But our leadership in the industry has led to the implementation of technology-centric programs such as Guardian that integrate information and technology in a way that no other organization offers. With the utilization of Telmate Guardian the use of an ankle bracelet is eliminated reducing the possible labeling and stereotyping of our residents. GPS in general provides us the opportunity to immediately locate the resident and allows us to geofence any location desired."
Residents enrolled in Dismas' program are working to reintegrate in society by gaining suitable employment, securing housing, and reuniting with family, friends and educational pursuits. Familiarizing themselves with the latest technology like using smartphones, is absolutely essential for them to make these connections.
The newly adopted Telmate Guardian app is compatible with both Android and Apple smartphones, and requires no additional hardware or equipment, making it a low cost, robust, and easy to use monitoring solution. Guardian offers case managers real-time supervision, that make it simple to actively pinpoint and supervise enrollee locations. The video call feature of Guardian provides a real-time view of their current environment.
"We are proud to offer Telmate Guardian to one of the largest, not-for-profit providers of residential re-entry services in the United States," said Strategic Account Executive for Guardian, Chuck Geveden. "With Guardian, offenders have a better choice with a progressive, low-cost and discreet way of transitioning back to society without compromising security and control for case managers."
For more information about Telmate Guardian, visit http://www.telmate.com/guardian.
###
About Telmate:
Telmate is a leading provider of secure corrections and community corrections solutions including inmate phone, tablet, visitation, messaging, education and entertainment content, corrections applications, investigator tools and GPS monitoring. Telmate's cutting-edge platforms are deployed in over 300 correctional facilities in the U.S. and Canada. Telmate is a wholly-owned subsidiary of Global Tel*Link Corporation, headquartered in San Francisco, California. To find out more about Telmate, http://www.telmate.com.
About Dismas Charities Inc.:
Dismas Charities Inc., is a not-for-profit company serving communities nationwide. They have been designing and operating re-entry centers for over 50 years. Dismas gives men and women releasing from state and federal incarceration the skills and motivation to re-enter society as contributing members. The work of Dismas is to end the cycle of victimization and to heal the human spirit.