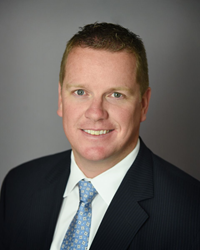 "Having spent his entire life immersed in aviation ... Russ absolutely has what it takes to buy and sell aircraft on behalf of our discerning business aviation clients." -- Don Dwyer, Managing Partner, Guardian Jet
GUILFORD, Conn. (PRWEB) June 06, 2016
Aviation veteran Russ T. Piggott was recently named Vice President, West Coast for Guardian Jet (guardianjet.com), the Guilford, Connecticut-based business aviation consulting and brokerage firm. In his new position Russ will lead the effort to build a stronger, more vital company presence on the country's west coast.
Don Dwyer, Managing Partner of Guardian Jet, LLC, expressed a high degree of enthusiasm for Piggott's appointment and role with the company. "I consider it a major win that we were able to recruit Russ Piggott to the Guardian team," he said. "Having spent his entire life immersed in aviation—both in the Air Force as a fighter pilot and now in civilian life as an aviation consultant—Russ absolutely has what it takes to buy and sell aircraft on behalf of our discerning business aviation clients."
Prior to joining Guardian Jet, Piggott served as a vice president for Boston Jet Search, where he represented clients through the corporate jet search and acquisition process. He has also worked as a business process consultant with Afterburner, Inc., teaching business executives and leaders how to accelerate their performance.
Piggott began his career in the active-duty U.S. Air Force, where he spent 10 years serving as an F-16 fighter pilot. During that time, he flew 33 combat missions in the opening stages of Operation IRAQI FREEDOM and was the F-16 West demonstration pilot. Piggott continues to serve in the California Air National Guard, flying the F-15C Eagle.
He graduated from the University of California, Riverside, with a degree in Business Administration and earned a Masters of Operational Arts and Science from Air University. He holds an Airline Transport Pilot rating with more than 4,000 hours of flight time, and is an avid aerobatic pilot.
"It's extremely important for me to be part of an organization that has a high degree of integrity, a positive reputation and provides world-class products and services," explained Piggott, about his new job. "As I've learned, the Guardian Jet business model is built upon five pillars that are broader and much more inclusive than simply buying and selling airplanes, as most brokers are. It's important that I get to live where my wife and I want to raise our family, and, at the same time, I'll be able to share my passion for business aviation as a member of a very capable company built upon sound fundamentals. It's a perfect match."
About Guardian Jet
Founded in 2002, Guardian Jet, LLC, offers business aviation brokerage, consulting and oversight services for thousands of clients worldwide. The company distinguishes itself with its focus on integrity and industry expertise, and by consistently providing business value to clients. Guardian Jet's core mission has always been to earn the right to buy and sell aircraft on behalf of its clientele by providing great consulting advice, market intelligence and flawless execution. For more information, visit guardianjet.com.