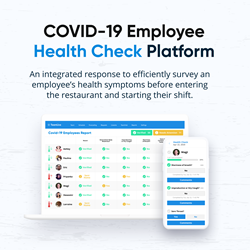 NEW YORK (PRWEB) April 24, 2020
Harri, an enterprise human capital management platform serving 20,000 restaurant and hotel locations that represent over 3 million hospitality employees, launches a COVID-19 Employee Health Check Platform, the first integrated response to efficiently survey an employee's health symptoms before entering the restaurant and starting their shift. With the health and safety of team members, customers, and the community at large a top priority, the process to support that responsibility requires a robust and transparent digital solution.
Using Harri Live, the core operations mobile app for Harri's HCM suite, managers can gather an employee's health symptoms, prior to starting their shift, by following a pre-built COVID-19 health questionnaire and logging an employees temperature. Based on the answers supplied and the employee's temperature reading, the system will alert the manager to whether the employee passed or failed the health check.
Records of completed health checks are easily reportable for the business to view and print in real-time. Upon completion of the health check, a business can print the results of the collective health checks and post them prominently at the entry to the restaurant or include with a delivery order. Transparency and accountability are key outcomes of the process.
"Ensuring that employees know they are safe, within the flow of work, is of the utmost importance. Simultaneously, it's critical for customers to know and trust that their restaurant of choice is implementing every health and safety precaution possible," said Luke Fryer, Founder and CEO of Harri. "By giving restaurants a means to implement these precautionary measures, gather accurate and objective information regarding an employee's health, and the ability to conduct these checks outside of the establishment in contrast to self reporting within the restaurant, we hope to be part of the solution to stop the spread of COVID-19 and to help restaurants regain their economic footing at this critical time."
The COVID-19 Employee Health Check Platform, delivers the following capabilities:

Accessible on Harri Live, a native mobile application available for Android and iOS devices
Pre-built, interactive COVID-19 health questionnaire for managers to administrate
Ability to digitally log an employees temperature
Reporting capabilities and print-ready templates for on-location use
With TeamHub, Harri's Biometric Time-Clock, employers can push a PPE announcement and digitally process an employee's acknowledgement and permission
As part of this effort, Harri intends to contribute 50% of its profits from this product to the National Restaurant Association's Restaurant Employee Relief Fund (RERF). Additionally, in partnership with the NRA and Upskill, Harri will be granting free access to Food Handling and Safety training courses to bolster the health and safety offering at this time.
To learn more, please visit https://harri.com/covid-19-employee-safety/
About Harri:
Harri is an enterprise human capital management platform that helps hospitality businesses build, manage, and engage their teams. With more than 30 modules, the platform provides solutions for talent acquisition, employer branding, applicant tracking, scheduling, time & attendance, communications, compliance, and analytics. With over 300 enterprise clients, Harri is a best in class solution that helps solve the labor-related challenges that plague the hospitality industry.
###
Press Contact:
Dan Murdoch, VP of Marketing
203-970-1127
marketing@harri.com