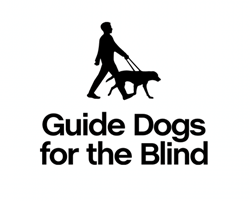 PORTLAND, Ore. (PRWEB) October 18, 2019
Today, Guide Dogs for the Blind (GDB), the national nonprofit empowering individuals who are blind or have low vision by creating exceptional partnerships between people, guide dogs and communities, kicks off the organization's momentous, weekend-long 2019 Guide Dogs for the Blind Alumni Reunion. Over 150 reunion attendees are coming together as a community for the event to celebrate GDB's mission and to experience what the city of Portland has to offer. These individuals, many of whom are blind or visually impaired and will be traveling with their guide dogs, hail from locations throughout the U.S. and Canada, and have traveled to Portland for the reunion. This is a special event, as a GDB alumni reunion hasn't occurred in Portland since 2015.
On Friday, October 18, various activities have been planned throughout the day for attendees to experience the city of Portland through the senses of taste, touch and sound. Those activities include indoor rock climbing, a walking food tour of downtown and a tactile art exhibit tour at the Portland Art Museum. This itinerary has been put together with blind and visually impaired visitors in mind to create a tactile experience of Portland.
The reunion agenda on Saturday, October 19 features varying educational breakout sessions focused on support for GDB alumni as well as hosted group discussions for their friends and family members. Some of these sessions include a quality of life workshop hosted by the OHSU Casey Eye Institute, a discussion for sighted attendees on ways to support their blind or visually impaired friend or family member and a beginners guide to identifying North American bird songs.
The packed Saturday will end with a red carpet celebration. Participants will also enjoy a screening of the IFC-produced documentary film Pick of the Litter, which follows a litter of GDB puppies on their journey to become trained guide dogs. The screening will be followed by a talkback with GDB's CEO and one of the stars of the film, GDB Class Supervisor Melanie Harris. The film will be shown in anticipation of the upcoming Disney-produced documentary TV series of the same name.
"Our alumni reunion events are always very special to us," says GDB President and CEO Christine Benninger. "We have the opportunity to come together as a community to learn, have fun, experience a new city and, most importantly, celebrate the life-changing mission of Guide Dogs for the Blind. Our staff has outdone themselves this year, and I know our attendees will be impressed with the array of unique activities and sessions taking place providing new and different ways to experience the city of Portland."
GDB has a Portland area campus in nearby Boring, Oregon. Various GDB events take place at the Boring campus throughout the year, as well as campus tours and graduations that are open to the public. Interested members of the public can find more information on the nonprofit's Boring campus tours and graduations at guidedogs.com/meet-gdb/campus-tours-graduations.
About Guide Dogs for the Blind (GDB): GDB is an industry-leading nonprofit guide dog school serving the visually impaired. With exceptional client services, and a robust and passionate community of instructors, puppy raisers, donors and volunteers, GDB prepares highly qualified guide dogs to serve and empower individuals who are blind or have low vision. All of GDB's services are provided free of charge, and the organization receives no government funding. GDB is headquartered in San Rafael, California, with a second campus in Boring, Oregon. More than 15,000 guide teams have graduated since the nonprofit was founded in 1942, and there are approximately 2,200 active teams in the field. For more information, please visit guidedogs.com.
Contact Information: For more information and access to reunion photos, reach out to Becca Wirta, PR Manager at Grady Britton - pr@gradybritton.com, 503.228.4118