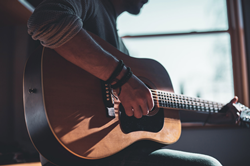 OVERLAND PARK, Kan. (PRWEB) November 15, 2020
TopConsumerReviews.com recently gave its best-in-class 5 star rating to True Fire, a leader among online providers of Guitar Lessons.
From romantic Spanish ballads to scorching electric riffs, guitar music inspires and entertains. Who hasn't imagined himself or herself rocking out with a favorite band or serenading a loved one with a self-composed song? Of course, the only way to get from the dream to reality is through guitar lessons. In the past, eager students struggled to find instructors and lessons to fit their schedule and their budget. However, today there are a wide range of online providers of guitar lessons, making it easy and affordable to learn to play - or to take one's skills to the next level. No matter the preferred style of music, it's easy to find a platform that will help musicians pick up the skills needed to play the guitar, all from the convenience of home, school, or wherever they'd like to learn.
"If you want to learn to play the guitar with over 33,000 lessons from world-class instructors, all for less than the price of two movie tickets per month, look no further than True Fire," affirmed Brian Dolezal of TopConsumerReviews.com, LLC. "Grammy winners and music professors are just some of the teachers you'll find on this robust platform for guitar lessons, which can be purchased a la carte or in a $19/month subscription. Students can design their own course from the numerous array of lessons on the site, or they can follow a learning path created to take them step-by-step through everything needed to make progress in their skills. This is also one of the few online providers of guitar lessons that offers one-on-one instruction that can be tailored to a student's exact needs. No matter which route you choose, your progress is easily tracked with an online dashboard, and site content is updated regularly, accessible through any iOs or Android mobile device in addition to your laptop. True Fire is well-established, affordable, and cutting edge when it comes to making it possible for practically anyone to learn to play. For all of these reasons, our top recommendation for online Guitar Lessons in 2020 goes to True Fire."
To find out more about True Fire and other providers of Guitar Lessons, including reviews and comparison rankings, please visit the Guitar Lessons category of TopConsumerReviews.com at https://www.topconsumerreviews.com/guitar-lessons/.
About True Fire
Founded in 1991, True Fire has collaborated with 600+ top educators to produce what Guitar Player Magazine calls "the planet's largest and most comprehensive selection of online guitar lessons." 1 million+ guitar players, from virtually every country in the world, "learn, practice, and play" with True Fire's interactive video courses and patented learning systems for personalized and private online instruction. True Fire's success is largely due to the quality of artists and educators - from GRAMMY award winners, to top session players, to world renowned educators, True Fire content is powered by the best in the biz.
About TopConsumerReviews.com
TopConsumerReviews.com, LLC is a leading provider of reviews and rankings for thousands of consumer products and services. From Guitar Lessons to Music Publishing and Singing Lessons, TopConsumerReviews.com delivers in-depth product evaluations in order to make purchasing decisions easier.