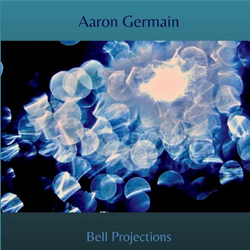 I'd be delighted to hear traditional guitar quartets interpret these pieces in the future.
RICHMOND, Calif. (PRWEB) March 31, 2021
Aaron Germain's aptitude for both string instruments and haunting compositions reaches stunning new heights with "Bell Projections," set for a May 14 release on his own Aaron Germain Music imprint. The album's 17 pieces were written and arranged for guitar quartet—but on the recording, it's Germain who plays all four guitar parts.
It was never intended as a solo showcase. Best known as a bassist, Germain's ambition was to challenge himself as a composer. "I was downloading tons of classical guitar quartet music, sorting through all of it and listening to it like crazy, looking for holes in the repertoire," he recalls. Yet the real difficulty turned out to be finding guitarists to learn and play the complex music in time for a recording session.
That's when Germain decided that recording all the parts himself was the easiest route (although woodshedding on acoustic, soprano and bass guitar, electric and upright bass, and guiro could hardly be called easy). To accompany his one-man quartet, he enlisted a collective of 15 musicians, who appear in various combinations across the album.
Inevitably, however, Germain and his guitars are the heart and soul of "Bell Projections." Whether he is alone in the spotlight, as on the delicate "Regarding Raistlin (for Elizabeth Germain)," duetting with oboist Paul McCandless ("Hush") or drummer Deszon X. Claiborne ("Resident Eject"), or engaging with the flute trio of Robert Farrington, Chloe Jane Scott, and Nestor Torres on the luxuriant Peruvian-inspired piece "Breath Marks," it is his beautiful touch and sly (self-) interaction that commands the listener's attention.
As if his resourcefulness wasn't already beyond question, Germain crafted each of his compositions with distinct personalities. Whereas Brazilian music gives shape to "Toitoisho (for Hotoshi Oyasu)," it's Latin funk that animates "Gutter Sass," while jazz harmonies and phrasing enliven "Pin Untended" and classical articulation resounds through "SubEthos." "Bell Projections" is thus a remarkable testament to Germain's embodiment of that famous line of Walt Whitman's: "I am large, I contain multitudes."
Aaron Germain was born in Cambridge, Massachusetts in 1977, and began his musical journey at 15 when he picked up a guitar. However, it soon became apparent that learning to play bass would afford him wider and steadier work. He continued playing both, but gradually the bass became his primary ax. That focus only intensified when, as a 19-year-old student at Massachusetts' Hampshire College, Germain studied with Yusef Lateef. The legendary jazz multi-instrumentalist was impressed enough to hire the young bassist for a gig, a major turning point in Germain's creative life. He went all in on enhancing his own skills; in addition, he deepened his repertoire with excursions into Afro-Caribbean and Brazilian jazz, salsa, Indian, and Senegalese and other Western African musical traditions.
By the time he relocated to the San Francisco Bay Area in 2000, Germain was highly skilled in numerous styles of music. He quickly became one of the most in-demand musicians on his new scene. In 2009, he made "Before You Go," his first album as a leader, following it up in 2013 with "Chance."
The eight-year gap between Chance and Bell Projections reflects the herculean effort that went into the creation of the new album. Germain spent six of those years studying the guitar quartet repertoire, writing the intricate music in four parts, then learning and recording those parts on the various varieties of guitar and bass. The degree of his labor, he says, is audible. "Classical guitarists play with their fingernails," he observes. "I recorded without nails, because they don't work with bass, which is my everyday gigging instrument. I strike the strings with the skin of my fingertips, but I have bass player calluses. I'd be delighted to hear traditional guitar quartets interpret these pieces in the future."