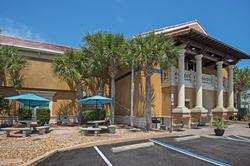 "We have seen numerous cases of good people who innocently became addicted to prescription opioids and who also had the determination to free themselves from their addiction." Barnett Gilmer, Executive Director of Gulf Breeze Recovery
GULF BREEZE, Fla. (PRWEB) August 06, 2019
Recently, the DEA reluctantly released information it was required to make public about the number of opioid pills (oxycodone and hydrocodone) distributed throughout the United States from 2006 through 2012. During those 7 years, 76 billion pills were distributed. During that same period, the prescription drug epidemic resulted in almost 100,000 deaths.
Four pharmaceutical companies manufactured 91 percent of the opioids distributed during that time. Those companies are SpecGx (a subsidiary of Mallinckrodt), Actavis Pharma, Par Pharmaceutical (a subsidiary of Endo Pharmaceuticals), and Purdue Pharma.
Although Purdue Pharma came in 4th place in the order of companies who produced the most pills during those seven years, it receives the dubious honor of being the company that arguably started the prescription opioid epidemic.
When OxyContin was launched in 1996, Dr. Richard Sackler, a member of the family that controls Purdue Pharma and then a company executive, announced, "The debut of OxyContin will be followed by a blizzard of prescriptions that will bury the competition." Purdue orchestrated an aggressive plan to market Oxycontin as a less addictive opioid that was a safe and effective way to treat moderate to severe pain.
As addiction to Oxycontin and other opioid medications occurred and overdoses were increasing, Sackler had another plan, divert the blame to others, especially those who became addicted to opioids. In a 2001 email, Sackler wrote, "We have to hammer on the abusers in every way possible. They are the culprits and the problem. They are reckless criminals."
The blizzard of prescriptions that Purdue Pharma started may have temporarily buried the competition, but they caught up quickly. Of the 91 percent of opioids distributed from 2006 through 2012, Purdue Pharma produced 3%. The claims of OxyContin being a safe and less addictive opioid was challenged and Purdue was eventually ordered to pay a $634 million fine to the Food and Drug Administration.
Opioids meant big money. According to a 2018 lawsuit by San Juan County in New Mexico and against multiple defendants, pharmaceutical company revenues in a single year during the opioid epidemic's peak ranged from $403 million for opioids by Endo to $3.1 billion in sales for OxyContin by Purdue Pharma.
Opioids also mean big addiction. Barnett Gilmer, Executive Director of Gulf Breeze Recovery, a residential treatment program in the Florida panhandle shares his frustration, "How any company can produce a powerful opioid like OxyContin and market it as safe amazes me. Then as people become addicted to their "safe" medication, instead of offering help, they offer blame. We have seen numerous cases of good people who innocently became addicted to prescription opioids and who also had the determination to free themselves from their addiction."
About Gulf Breeze Recovery: Gulf Breeze Recovery is changing the future of addiction treatment with the THRIVE® program focused on overcoming chronic relapse. Gulf Breeze Recovery's THRIVE® program is a non 12-step approach and individualized designed for those who are looking for a drug and alcohol treatment program to produce a different and positive result. This non-12 step program allows you to drive beyond your addictions and promotes a new outlook on life. For more information about our program or to speak with an Addiction's expert, please call 855-973-3551 or contact us.