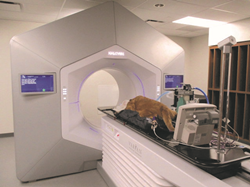 This new building is a symbol of our resiliency, strength and commitment to the people and pets of Houston.
HOUSTON (PRWEB) March 29, 2019
Gulf Coast Veterinary Specialists (GCVS) is pleased to announce the opening of its new, state-of-the-art hospital at 8042 Katy Freeway (I-10 and Chimney Rock/Wirt Rd.), after its former hospital was destroyed in Hurricane Harvey. An internationally respected veterinary emergency and specialty hospital that has cared for pets in the Lone Star State since 1989, in its new location, GCVS is now one of the largest veterinary specialty hospitals in Texas.
Each year, GCVS treats more than 50,000 patients, from dogs and cats to exotic animals such as birds and reptiles. GCVS was the focus of two seasons of Nat Geo WILD's Animal ER, which aired worldwide in 2016–17. The new 50,292-square-foot hospital, located at the intersection of I-10 and Chimney Rock/Wirt Rd., will bring together 14 departments and over 50 veterinarians, including 30 board-certified specialists, and more than 200 support staff under one roof. GCVS offers the following veterinary medical specialties:

Anesthesia & Pain Management
Avian & Exotics
Cardiology
Dentistry & Oral Surgery
Dermatology & Allergy
Diagnostic Imaging
24/7 Emergency & Critical Care
Internal Medicine
Neurology & Neurosurgery
Oncology
Ophthalmology
Rehabilitation & Fitness
Sports Medicine
Surgery & Orthopedics
The new hospital marks an important milestone in the hospital's 30-year history. Like so many families and businesses in the Houston area, GCVS was ravaged by Hurricane Harvey in August 2017. Its home at 1111 West Loop South was destroyed by the massive flood Harvey dumped on Houston. Not only did many of its more than 250 employees deal with personal loss as a result of Harvey, but they also volunteered their time to help triage and care for displaced pets all over Houston.
The Houston veterinary referring community rallied around GCVS by offering space in their clinics so that GCVS specialists could continue to provide medical care to Houston's pets. GCVS quickly built a temporary hospital so that they could resume offering their services at full capacity. They moved to this space in November of 2017, and began building their new, permanent location directly next door at 8042 Katy Freeway, which opened for business in January 2019.
Says Ryan Buck, Group President for Compassion-First Pet Hospital's Texas hospitals, "We are finally at a stage where we can actually celebrate. While we have continued to provide care to the area pets, our people have been displaced and it is an important moment for us to all be under one roof."
GCVS will continue to offer 24/7/365 emergency care. GCVS's new building boasts 39 exam rooms and nine operating rooms to treat more patients at any given time, as well as cutting-edge technology including a 1.5 Tesla Magnetic Resonance Imaging (MRI), 64-Slice Computer Tomography (CT), Digital Radiography, and a state- of-the-art Varian Halcyon linear accelerator for radiation therapy to treat cancer. Other welcome additions include 536 parking spaces, a large lobby with multiple waiting areas, including private waiting areas, and computer stations for clients with separate check-in and checkout stations.
GCVS, a vital part of the Compassion-First Pet Hospitals' family of emergency and specialty hospitals across the United States, is driven by a passion to help families with pets, and with unyielding perseverance, the hospital will continue to provide specialized care, in partnership with referring veterinarians, from its new world-class facility. "Our forever home is a rebirth for the community, our people and the pets we care for. This new building is a symbol of our resiliency, strength and commitment to the people and pets of Houston," says Buck.
About GCVS
Gulf Coast Veterinary Specialists is a member of the Compassion-First Pet Hospital family and provides specialized care, in partnership with the veterinary community, to help families with pets. We use our extensive experience and expertise in all major veterinary specialties to provide the highest quality, most comprehensive specialized care for companion animals, as well as working to advance veterinary technology through education and innovation.
Our commitment is to provide world-class specialty and emergency medicine, while identifying and supporting the unique needs of each patient, client and referring veterinarian. As members of your family, pets deserve nothing less than the best care available. Our priority lies with giving you and your family all the support you need — through communication, care and compassion. We are committed to being Houston's Veterinary Medical Center.
###