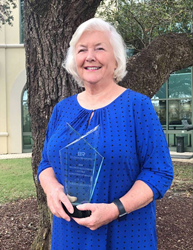 Carolyn's dedication, knowledge and professionalism have been recognized by her peers for years. It was wonderful to honor her for her long-time commitment.
GULF SHORES, Ala. (PRWEB) January 11, 2021
At its recent annual meeting, Baldwin REALTORS® recognized Carolyn M. Doughty, sales director for CENTURY 21® Meyer Real Estate, for her 41+ years of service to the Baldwin County real estate industry.
This award is presented to a REALTOR® with at least 25 years of experience, with the last 10 or more serving as an active member of Baldwin REALTORS®.
Consideration for this award is based on member board and committee involvement, leadership, outstanding vision, dedication, commitment to Baldwin REALTORS®, and honoring the REALTOR® Code of Ethics.
"Carolyn has been and is a wonderful member of the association," said Sheila Dodson, CEO of Baldwin REALTORS®. "Her dedication, knowledge and professionalism have been recognized by her peers for years. It was wonderful to honor her for her long-time commitment."
Doughty earned a bachelor of science degree in microbiology and worked as a registered medical technologist in the Birmingham area before moving to Gulf Shores and embarking on a real estate career in 1979. "There were not many doctors in this area at that time, so my brother, who owned a title company, suggested I get my real estate license. It also gave me the chance to have somewhat flexible hours, which was good since I had three small children."
Doughty joined CENTURY 21® Meyer Real Estate as a sales associate in 1979, and quickly transitioned to other roles, including educational director, sales manager, sales director, broker for the Fort Morgan office, broker for the Orange Beach office, compliance director, sales administration manager, and director of professional development and administration.
She said continuing her career with Meyer made perfect sense, especially since her values align seamlessly with those of the company's owner, Sheila Hodges. "I've stayed with Meyer all these years thanks to Sheila and her leadership and the type of company she has created at Meyer—professional, honest, ethical, trustworthy, fair, respectful, customer focused, innovative. All these qualities are important to me."
Hodges congratulated Doughty on the award. "I am so grateful that Carolyn and I met when she first moved to Gulf Shores. Her passion for learning, growing, and always doing the right thing has inspired all who have crossed her path. Her devotion to both sellers and buyers was only exceeded by her desire to train those coming into the business. She is the epitome of what a REALTOR® should be."
Doughty's roots in Baldwin County date back to childhood. "I grew up in Citronelle, in north Mobile County. I started vacationing here with my family in the late 1940s and moved to Gulf Shores full time in 1979," she said. "My parents built a little cabin on Bon Secour Bay, about halfway down Fort Morgan Road, in 1962, and that is where I moved after retiring from the Gulf Shores City Council in 2016."
The Baldwin County real estate market presents many rewards as well as challenges, Doughty said. "Baldwin County is such a large, geographically and economically diverse county that it offers all types and price ranges of real estate, ranging from rural and 'normal' residential to resort and commercial. The resort market we have in our area is different in that our buyers and sellers, for the most part, do not live here. Therefore, how a real estate agent creates and builds their business is a little different than they would in a more typical residential market. Since you don't get to know people and build a relationship with them by going to church or school with them, or seeing them in the grocery store or at Little League games, an agent has to find creative ways to meet people. In today's world, that is done through the mail, phone calls, emails, texts, etc., which means it takes longer to build a trusted relationship with an individual. Also, a lot of the people who are looking for an investment property may not need the property like someone who is moving to the area. But, as I tell agents, anyone in the world may want what we are selling because they do not have to move here for it to possibly benefit them as an investment or rental property."
Doughty said she was honored to have been chosen for a Lifetime Achievement Award from Baldwin REALTORS®. "There are so many members who have worked so hard for so many decades that I was surprised and certainly humbled and honored to receive the award this year. I just followed the example that Sheila has always set and really appreciate all of her support for allowing me the time from work to be so actively involved in Baldwin REALTORS® as well as the Gulf Shores City Council and other community activities over these past four decades."
In addition to her 15 years of service as a member of the Gulf Shores City Council, Doughty has also served in a number of real estate, tourism, philanthropic, educational, and community and civic leadership roles throughout her career.
When asked what words of advice she would offer to real estate agents considering a career in Baldwin County, she said it is important to remember that while real estate is a sales business it is also very much a service business. "An agent needs to learn everything that they can about the business and the market so that they can provide the best, most accurate information to a buyer or seller. They also need to always put the buyer's or seller's interest first and provide the most professional customer service possible. Referrals and repeat business from satisfied customers is what will allow an agent to grow their business more easily."
ABOUT CENTURY 21® Meyer Real Estate
Founded in 1967, CENTURY 21® Meyer Real Estate, part of the SH Enterprises Inc. family of companies that also includes Meyer Vacation Rentals, is an award-winning real estate firm serving buyers and sellers of primary residences and vacation rental properties in Southern Alabama and Northwest Florida. With a focus on building trusted lifetime relationships with its clients, CENTURY 21® Meyer Real Estate sales professionals have proudly provided honest, ethical and trustworthy service for more than 50 years.