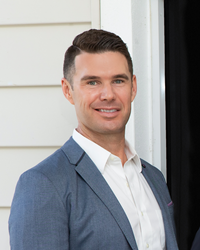 Oral surgery gives me a chance to help people through painful times in their lives, and it's tremendously rewarding to make a difference like that.
NAPLES, Fla. (PRWEB) November 10, 2022
U.S. Oral Surgery Management (USOSM) congratulates its surgeon partner Daniel Winokur, DMD, on his recent 40 Under 40 recognition by Gulfshore Business. Dr. Winokur, 38, is an oral and maxillofacial surgeon and partner at WestShore OMS Specialists, a USOSM partner practice located in southwest Florida.
"Dr. Winokur is highly skilled, trained and compassionate. He is an exceptional oral and maxillofacial surgeon, who is committed to making a difference for his patients, his practice, his community and his industry as a whole. He is most deserving, and we congratulate him on his recognition," said Richard Hall, USOSM president and CEO.
Gulfshore Business is a business-to-business magazine covering news in the Gulf Coast area from Naples to Fort Myers and northward to Port Charlotte. The publication receives hundreds of nominations for its annual award, recognizing 40 of the region's most extraordinary young professionals -- men and women under 40 who excel in their profession, give back to the community and inspire others.
"The drive to succeed, the passion to pursue their dreams, the caring and commitment to improve the quality of life for all of us — these young members of our southwest Florida community are true inspirations," writes Gulfshore Business in its 2022 40 Under 40 special edition.
Dr. Winokur is board certified in oral and maxillofacial surgery, as well as in anesthesia. He provides a full scope of oral and maxillofacial procedures and has extensive training in trauma, dentoalveolar and pathology surgery.
Growing up as the oldest child in a family of pediatric dentists, Dr. Winokur wanted to forge his own path when choosing a career. He went to work in finance, interning at a big investment firm on Wall Street and then working full-time at a trade desk, first in Manhattan, and later in London.
"There were parts of it that I really enjoyed. However, it wasn't my true calling. When the markets crashed, I had the opportunity to do something else, and I chose to go into oral surgery," recalls Dr. Winokur. "I like the complexity of oral surgery. Nothing's ever boring. It's diverse and challenging, and I enjoy helping people. Oral surgery gives me a chance to help people through painful times in their lives, and it's tremendously rewarding to make a difference like that."
In addition to his duties as a partner and surgeon at WestShore OMS Specialists, Dr. Winokur volunteers with the Neighborhood Health Clinic and as a study club leader, encouraging decreased narcotic use as a means of postoperative pain management. He is passionate about maintaining best practices for safe and effective anesthesia use in the treatment of both pediatric and adult patients and is an engaging speaker and educator on those and related topics.
Previously, Dr. Winokur served as one of the team oral surgeons for the National Football League's Washington Redskins, Major League Soccer's D.C. United and the National Women's Soccer League's Washington Spirit.
Dr. Winokur earned bachelor's degrees in finance and economics from The George Washington University and a post-baccalaureate degree in biology and chemistry from The University of North Carolina. Afterward, he attended the Arizona School of Dentistry & Oral Health, where he earned his DMD, as well as a certificate in public health and the university's Association of Oral and Maxillofacial Surgery award.
Dr. Winokur completed his surgical training at the University of Miami Leonard M. Miller School of Medicine's Jackson Memorial Hospital. Throughout his dental school training, he attended and organized multiple humanitarian trips to Central and South America, providing dental care to those in need.
WestShore OMS Specialists is a private oral and maxillofacial surgery practice dedicated to exceptional patient care and clinical excellence. It has two locations in southwest Florida. They are in Naples and Bonita Springs. WestShore OMS Specialists has three board-certified surgeons, who provide a wide variety of OMS services, including tooth extraction, wisdom tooth removal, dental implants, TMJ disorder treatment, cleft lip and palate correction, facial trauma and reconstructive surgery, bone grafting and more. For more information, visit https://www.westshoreoms.com/.
Headquartered in Irving, Texas, USOSM has partner practices spanning 21 states. A shared services organization, USOSM collaborates with premier oral and maxillofacial surgeons to offer a partnership solution for continued and accelerated practice success. USOSM provides operational, marketing and administrative support services, reinvests resources, and applies best practices to improve clinical and financial performance and produce steadier, more profitable growth for all. For more information, visit https://www.usosm.com/.