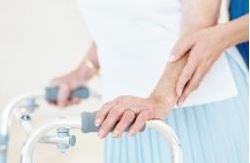 This research confirms again the importance of maintaining a good oral health regime and taking action as soon as the first signs of gum disease appear.
Bournemouth, Dorset (PRWEB UK) 5 November 2013
Oral health experts from Eludril and Elgydium have renewed their warnings over gum disease after new research revealed another link between gingivitis and rheumatoid arthritis.
A new study has shown that people with gum disease are twice as likely as others to suffer from rheumatoid arthritis.
The research (1) was carried out by the University of Louisville School of Dentistry in partnership with the European Union's Gums and Joints Project.
Researchers have identified that Porphyromonas gingivalis – the bacteria most strongly associated with gum disease – also produces an enzyme linked to rheumatoid arthritis.
This enzyme triggers changes in proteins which the body then mistakes as a threat and attacks, leading to chronic inflammation.
The manufacturers of Eludril mouthwash and Elgydium toothpaste say the latest research provides a further valuable insight into the wider effects of gum disease.
"This is another important piece of research highlighting the links between gingivitis and rheumatoid arthritis," said a spokesperson for Eludril and Elgydium.
"It confirms again the importance of maintaining a good oral health regime and taking action as soon as the first signs of gum disease appear.
"Regular brushing and flossing are vital in tackling the bacteria that cause gingivitis and could potentially lead to other more serious conditions such as cardiac problems, diabetes and osteoporosis."
This latest research from the Louisville and EU teams follows a study published in the Annals Of The Rheumatic Diseases.
That study (2) showed that two thirds of a group of 91 rheumatoid arthritis sufferers had gum disease – compared with 28 per cent in a similar group of people who did not have rheumatoid arthritis.
Typical symptoms of gum disease are swollen and sore bleeding gums.
Other early signs can include inflamed gums and bad breath.
Ignoring the problem and letting the symptoms persist can cause gums to recede. In very serious cases, this can lead to teeth becoming so loose that they either fall out or need to be extracted.
It is much easier to learn how to stop receding gums and brush properly with the right toothbrush and toothpaste than it is to reverse the problem, which can require surgery.
Gum disease is not difficult to treat. Dentists all over recommend Chlorhexidine as the gold standard treatment for gum disease.
Chlorhexidine is an active ingredient in both Eludril mouthwash and Elgydium toothpaste.
Eludril mouthwash for gum disease is a short term treatment for when gum disease is diagnosed. Elgydium toothpaste can be used every day to help prevent gingivitis.
For more information about Eludril and Elgydium, contact Lindsay Revill at Ceuta Healthcare on +44 (0)844 243 6661.
(1) Gum Disease Worsens Rheumatoid Arthritis, Healthline News, 17 September 2013
(2) Periodontal Disease Abstract, Annals of the Rheumatic Diseases, 8 August 2012
-Ends-
Notes For Editors
Eludril and Elgydium are represented in the UK by:
Ceuta Healthcare Ltd
Hill House
41 Richmond Hill
Bournemouth
Dorset
BH2 6HS
Tel: +44 (0)844 243 6661
Eludril Mouthwash is an antibacterial and analgesic solution which can be used to manage a number of oral health problems.
Its main use is to treat and prevent dental plaque formation and gum disease (gingivitis, also known as periodontitis) by preventing the build-up of bacteria.
Eludril Mouthwash can also be used to maintain oral hygiene in situations where tooth brushing is difficult, for instance, following oral surgery or in physically or mentally handicapped patients.
Eludril can also be used as a disinfectant for the cleansing of removable dentures and in the management of common mouth ulcers and oral candidiasis infections (fungus infections).
Elgydium Anti-Plaque toothpaste is specially formulated for sensitive gums and helps to prevent dental plaque and tartar build-up, the major causes of tooth decay and gum disease.
Elgydium Whitening and Decay Protection are also available as part of the Elgydium range of toothpastes.