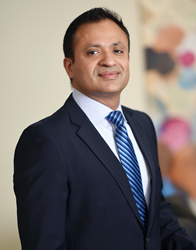 "Pradeep plays an important quality control role at our firm so it's a great honor that he will provide his specialty in this area to the state of California and the profession."
SANTA MONICA, Calif. (PRWEB) December 20, 2018
Gumbiner Savett Inc., one of the largest full-service public accounting firms in Southern California, is proud to announce that its shareholder, Pradeep Budhiraja, CPA, has been appointed by the California Board of Accountancy to serve on one of its three advisory committees.
"Pradeep plays an important quality control role at our firm so it's a great honor that he will provide his specialty in this area to the state of California and the profession," said Rick Parent, Managing Director of Gumbiner Savett Inc. "We are proud to have Pradeep be a part of this prestigious organization."
As a member of the Qualifications Committee, Budhiraja will serve a two-year term. The committee is limited to a membership of licensees who have expertise in the preparation of audit and review reports. The committee assists the CBA in its licensure activities by reviewing the experience of applicants for licensure and making recommendations to the CBA. This responsibility includes conducting work paper reviews with applicants or with employers present to verify that the responses provided are reflective of the requisite experience for licensure.
"Due to his work as the firm's Quality Control Officer, Pradeep is an excellent choice to serve on the committee," said Michael Savoy, a Gumbiner Savett Inc. shareholder, and immediate past president of the CBA. "With his level of experience, he will be a great addition to the committee and become and integral part of the CBA."
As an audit and accounting shareholder at Gumbiner Savett Inc., Budhiraja leads the public company practice and is the Quality Control Officer for the firm. He is a graduate of the University of Delhi in India. He is a member of the American Institute of Certified Public Accountants; the California Society of Certified Public Accountants; and the Institute of Chartered Accountants of India.
Savoy, whose term as president of the CBA ended in November 2018, has been reappointed by Governor Jerry Brown for another four-year term as a member of the board. Mr. Savoy has served on the board of the CBA since 2010.
About Gumbiner Savett Inc. - http://www.gscpa.com
Gumbiner Savett Inc. is a full-service accounting and consulting firm headquartered in Santa Monica. Founded in 1950, its purpose is to enrich its clients' lives by facilitating the achievement of their financial objectives and providing career fulfillment for its employees.
Gumbiner Savett Inc. is dedicated to being a preeminent assurance, tax and business advisory firm for growth oriented businesses, middle market enterprises and high-net worth individuals in Southern California. In addition to traditional private and public company accounting and tax services, it specializes in general business consulting, estate and trust planning, fraud examination studies, business services and bookkeeping and litigation support. Gumbiner Savett Inc. is an independent member firm of BKR International.
About the CBA – http://www.cba.ca.gov
Created by statute in 1901, the CBA's mandate requires that protection of the public shall be its highest priority in exercising licensing, regulatory, and disciplinary functions. The CBA currently regulates more than 105,000 licensees, the largest group of licensed accounting professionals in the nation, including individuals, partnerships, and corporations.
The CBA's mission is to protect consumers by ensuring only qualified licensees practice public accountancy in accordance with established professional standards.
The CBA's vision is that all consumers are well-informed and receive quality accounting services from licensees they can trust.