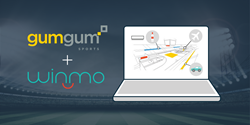 Our partnership with GumGum brings to light exactly which types of activations brands are investing in on a by-team basis, giving sponsorship sellers an unparalleled view of a brand's existing strategy and sports partners.
SANTA MONICA, Calif. (PRWEB) June 16, 2020
GumGum Sports, the leading AI-powered sponsorship analytics platform, has partnered with Winmo, the industry's top sales enablement tool, to help sponsorship sales teams identify and evaluate brand partnership opportunities. Winmo's advertiser profiles will have direct access to select sponsorship analytics from GumGum Sports, pairing key deal insights with the decision-makers responsible for sponsorship budgets. This partnership marks a significant milestone for GumGum Sports as they make their insights available across new channels beyond direct sales.
In addition to listing the marketing decision-makers who control sponsorship spend at brands, company profiles within Winmo's platform will now include GumGum's sponsorship insights, which identify the brands activating in the sponsorship ecosystem and the teams those brands are working with. GumGum will also supply analytics detailing the duration that sponsor placements appear across television and streaming broadcasts.
The partnership brings a new level of visibility into the sports marketing ecosystem that stakeholders have traditionally struggled to access. GumGum's machine learning computer vision systems identify exactly which sports properties brands are working with and which activations they are sponsoring, while Winmo provides verified decision-maker intel to those who control sponsorship dollars. The union combines those strengths to render a holistic view of the sports marketing landscape.
"Our partnership with GumGum brings to light exactly which types of activations brands are investing in on a by-team basis, giving sponsorship sellers an unparalleled view of a brand's existing strategy and sports partners," said Dave Currie, CEO, Winmo. "And of course, it's provided alongside the relevant decision-makers with all the contextual insight they need to craft effective sales outreach that resonates. We're thrilled to give our clients this unfair advantage to winning more business with sports sponsors."
"A key mission for GumGum Sports since its inception has been facilitating more efficiency and better outcomes across the sponsorship industry," said GumGum Sports GM Brian Kim. "That's exactly what we're doing here with Winmo––fusing their sales intelligence and our sponsorship intelligence to empower team and league stakeholders with the most meaningful and effective partnerships. We're proud of that work with Winmo not only because it delivers on that mission, but also because it marks a key step in our effort to expand the channels through which we serve GumGum Sports' analytics."
About GumGum Sports:
GumGum Sports is an AI-powered sponsorship analytics solution that delivers timely data and insights to help brands, agencies, properties and media companies contextualize the value of their sponsorships. A division of computer vision pioneer GumGum, the company captures the full media value of sports sponsorships across live broadcasts, social media, and digital streaming, enabling rights holders to retain and grow partner revenue and giving sponsors the ability to track and optimize media value across a portfolio of sponsorships. For more information, visit http://www.gumgum.com/sports
About Winmo:
Winmo is a sales intelligence tool that tracks decision-makers and marketing relationships for thousands of national brands. Its human-verified profiles list media, agency and sponsorship decision-makers who control over $100 billion in spending each year, alongside contextual insights needed to craft sales outreach that resonates. Additionally, its predictive news analysis shines a light on future opportunities, analyzing tell-tale signs that media and sponsorship spend is on the horizon to alert sellers in advance. Armed with verified contact details and reliable sales predictions, Winmo users have the unfair advantage they need to connect with corporate sponsors at the right time. For more information and to request a trial, visit http://www.winmo.com