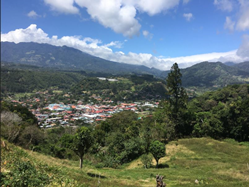 "If you are a gun owner and hope to bring your firearms when you move overseas—or perhaps purchase some when you arrive—you must consider the laws regarding gun ownership and importation"
BALTIMORE (PRWEB) October 13, 2020
No countries popular for retirement abroad have gun laws that mimic those of the United States, according to an International Living report on the subject, which ticks through the requirements in a dozen countries. But it is possible to own guns in certain locales, with certain restrictions.
"If you are a gun owner and hope to bring your firearms when you move overseas—or perhaps purchase some when you arrive—you must consider the laws regarding gun ownership and importation," says Jason Holland, IL editor and author of the report.
"There might be a lengthy application process to purchase or import a gun, along with hefty duties and fees. In most cases, you are not allowed to bring your firearm with you as a tourist. And even as a citizen or resident, you must apply for a special permit to bring one in—if it's allowed at all.
"In this report, we look at the gun laws in a dozen popular retirement locations. Run afoul of these laws, and folks could face confiscation of firearms, fines, deportation, and even jail time," says Holland.
The report details gun laws throughout popular retirement locales in Latin America, Europe, and Southeast Asia.
Mexico Gun Laws: Mexican citizens and foreigners with temporary or permanent residence status may have one small-caliber handgun (intended for self-defense in the home) and up to nine rifles if they are a registered member of a hunting or shooting club. Firearms must be registered with the Mexican army, which also runs the only store to purchase guns in the country. To import a gun, you must receive a permit first.
To receive a permit, you must meet several requirements, including a criminal record free of gun violence, mental health evaluation, and clean drug test.
Costa Rica Gun Laws: Only citizens and permanent residents of Costa Rica are allowed to possess firearms: handguns (up to three), rifles (up to three for sporting use; hunting is illegal in Costa Rica), and semi-automatic weapons between the calibers of 5.6 to 18.5 millimeters.
To bring guns, one must apply with the Ministry of Public Security and declare them when arriving to the customs department, who will hold it until you go through the registration process. Firearms can be purchased from a licensed gun shop or private individual. Gun owners must have a clean criminal record in Costa Rica and must pass a psychological exam.
Belize Gun Laws: A permanent resident or citizen of Belize can own a gun after a background check. The maximum caliber is 9mm, and folks can have only 100 rounds at any one time. Licenses are available to farmers to have shotguns to protect livestock, as well as for hunting and personal protection. Firearms may be imported but must be declared before arrival. Imported guns will be impounded by the police and registered before a license is granted.
Ecuador Gun Laws: In Ecuador, only firearms with a caliber of 9 millimeters or less are allowed. One cannot import a firearm from overseas. To own a firearm you must be a resident and be licensed, which requires a criminal background and mental health evaluation. An explanation must also be given as to why the gun is wanted, which could include hunting, target shooting, collecting, or self-defense.
Panama Gun Laws: There has been a moratorium on importing guns for many years. A limited number of gun shops sell handguns, shotguns, and rifles. Only permanent residents may purchase a gun, after going through the application process, which includes a drug test, biometric facial recognition exam, fingerprinting, having a DNA sample taken (blood), a psychological evaluation, and criminal background check. Up to 10 guns are allowed on one permit. Concealed carry is allowed.
Colombia Gun Laws: You must be a Colombian citizen to be eligible for a gun permit. Small caliber handguns and shotguns, which must be registered with the military, are permitted, but there must be a reason for owning one, including hunting, personal protection, target shooting, or collecting.
Thailand Gun Laws: One must be a Thai citizen to own a gun in the country. Firearm licenses are granted for self-defense, protecting property, hunting, or sport shooting, and you must pass a mental health and criminal background check and be employed.
Malaysia Gun Laws: Citizens and foreign residents can own a gun in Malaysia, but they must be kept at a shooting club. Folks must apply with the chief of police of the state and give a good reason for possessing a firearm. There is no carry license. Importing of guns is not allowed.
Vietnam Gun Laws: Civilians are prohibited from possessing firearms.
France Gun Laws: In general, only sport shooters or hunters may possess firearms, such as shotguns and rifles, with a license. Citizens and foreigners with a residence visa are eligible. To obtain a permit, a medical certificate must submitted, have no felony convictions, and take shooting lessons. No handguns are allowed. Folks are allowed to import sporting guns with a permit and customs declaration.
Italy Gun Laws: Guns are permitted to citizens and foreigners with residence visas with clean criminal records who pass a mental and physical health check and have trained in firearm safety. This license allows the purchase of a gun. Then you seek a license to own and transport the gun outside your home. You can obtain a sport shooting or hunting license to engage in those activities. Individuals may keep as many as three handguns, 12 sport handguns or long guns, or an unlimited number of hunting long guns at home. Firearms must be registered with the local police department. Guns cannot be transported outside the home loaded, unless one has a personal protection/concealed carry license, for which a valid reason must be proven, like being in imminent danger.
Spain Gun Laws: To possess a gun in Spain, a background check must be passed, as well as a psychological and medical test (this must be done every year) and a practical and theoretical exam. One must be a citizen or legal resident. Licenses are generally given for sport shooting and hunting and allow up to six shotguns and 10 handguns. There is no limit on the number of rifles. Owning a handgun for self-defense is allowed when in verifiable danger.
The report can be found, here: Gun Laws By Country: How the Right to Bear Arms Applies Overseas
Members of the media have permission to republish the article linked above once credit is given to Internationalliving.com
Further information, as well as interviews with our experts for radio, TV or print, are available on request. Photos are also available.
For information about InternationalLiving.com content republishing, source material or to book an interview with one of our experts, contact PR Managing Editor, Marita Kelly, +001 667 312 3532, mkelly@internationalliving.com
Twitter: @inliving
Facebook: https://www.facebook.com/International.Living/
About International Living
Since 1979, InternationalLiving.com has been the leading authority for anyone looking for global retirement or relocation opportunities. Through its monthly magazine and related e-letters, extensive website, podcasts, online bookstore, and events held around the world, InternationalLiving.com provides information and services to help its readers live better, travel farther, have more fun, save more money, and find better business opportunities when they expand their world beyond their own shores. InternationalLiving.com has contributors traveling the globe, investigating the best opportunities for travel, retirement, real estate, and investment.