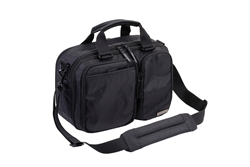 "We're excited to share this new and enhanced version which incorporates all of the great feedback. With updates to the design and increased functionality, the Chobe 2.0 is the premier bag for an increasingly mobile generation of consumers" - Trevor Peterson, co-founder and CEO
MARINA DEL REY, Calif. (PRWEB) November 18, 2020
GuraGear, an industry leader in ultra-lightweight, innovative carrying solutions, today debuts Chobe 2.0, the next iteration of it's hugely popular Chobe bag. Now live on Kickstarter, the ultimate everyday carry bag made from premium and durable materials is the perfect answer for modern-day consumers who are on-the-go more than ever.
GuraGear co-founder, Trevor Peterson averages over 200 days on the road and 250,000 air miles a year. In 2010, he created the Chobe from this real-world experience of working remotely and needing a bag that accommodated his business, everyday and photography needs. A decade later, GuraGear has updated the Chobe line to respond to the lifestyle of digital nomads and road warriors everywhere, taking into consideration the size and form factor of today's laptop and tablets, as well as the ever-expanding array of cables, batteries, and chargers that go in your office/travel bag.
"We looked to our most devoted users for advice on how to improve this already incredibly durable and beloved product," said Trevor Peterson, co-founder and CEO, GuraGear. "We're excited to share this new and enhanced version which incorporates all of the great feedback. With updates to the design and increased functionality, the Chobe 2.0 is the premier bag for an increasingly mobile generation of consumers."
Available in two sizes - 13" and 16" to fit current Apple laptops, no expense was spared to design and build Chobe 2.0, from the high-tech VX-21 sailcloth fabric outer shell from Dimension-Polyant (made in the USA) and incredibly reliable, smooth pulling YKK zippers to the 20 assorted storage compartments.
All key features include:

Stay super organized with 20+ storage compartments.
Easy access to your laptop, ipad and charging cables.
Additional camera inserts available in two sizes to hold both your mirror-less and DSLR kits or to organize life's essentials.
Durable and weather resistant; made from VX-21 material, Chobe stands up to harsh winds and rain without ever losing its shape.
Put your bag down anywhere; with VX-42 Protection, the bottom of the bag has protection from unexpected liquid exposure.
Easy pull zippers; smooth pulling, durable YKK zippers.
Zipper expansion provides five more liters of carrying capacity.
Seam sealed rain cover and removable shoulder strap included.
The Chobe 2.0 campaign will run for 30 days with several rewards packages, including options for the Et Cetera line of accessory pouches, designed to fit seamlessly into Chobe compartments, as well as GuraGear's premium camera backpacks, Kiboko 2.0.
Hi res images and Chobe 2.0 video available for download: https://www.dropbox.com/sh/h1zkogmxiyup6w8/AAATN9mHC_0RfQib3wcIHjFCa?dl=0
For more information and to pre-order at discounted early bird prices, visit the Chobe 2.0 campaign page on Kickstarter:
http://pre.fnd.to/guragear
About GuraGear, LLC
Co-founded by award-winning wildlife photographer Andy Biggs, and passionate amateur photographer and private equity professional Trevor Peterson, GuraGear is an industry leader in ultra-lightweight, innovative carrying solutions. Designed by photographers for photographers, GuraGear bags are the bag of choice for photographers looking to carry large amounts of gear onto an airplane, and into the field.
For more details, please contact:
Jackie Crystal
Crystal Susco PR
jackie@crystalsuscopr.com
323-839-9397
Kelly Susco
Crystal Susco PR
kelly@crystalsuscopr.com
310-428-6692