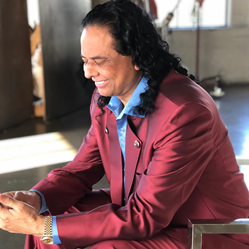 "An Online Workshop fuels your soul and accelerates your journey toward happiness, joy, and abundance. Guruji Mahendra Trivedi offers insight into the nature of the intelligent energy that powers the Trivedi Effect and how you can engage with and benefit from it." — Alice Branton, CEO
HENDERSON, Nev. (PRWEB) January 10, 2019
Guruji Mahendra Trivedi is an innovative thought leader offering fresh, insightful, honest perspectives on today's issues affecting humanity at practical and spiritual levels. Founder of the Trivedi Effect®, Guruji Mahendra Trivedi offers powerful workshops to deepen the participants' connection to the God of their understanding, as well as, to illuminate the path of awareness and higher consciousness as they learn to navigate and achieve their life's purpose, fate, and fortune.
In a recent Trivedi online workshop, Guruji Mahendra Trivedi spoke about the true meaning of Love and how to take responsibility for your life journey and to become a better conduit to connect to the God of your understanding.
Watch the replay from January 5 here: https://www.youtube.com/watch?v=-kPyejS3f08
"An Online Workshop fuels your soul and accelerates your journey toward happiness, joy, and abundance, " said Trivedi Global CEO Alice Branton. Guruji Mahendra Trivedi offers insight into the nature of the intelligent energy that powers the Trivedi Effect and how you can engage with and benefit from it. During this day-long event, you will receive one extended Group Energy Transmission to draw you toward greater resonance with universal consciousness and establish a deeper connection with the God of your understanding. Connect with the Trivedi community as you hear their experiences and perspectives. Offered several times each year, Online Workshops give you a condensed boost to power quantum change in your life.
The next Trivedi Online Workshop is scheduled at Noon, Pacific Time, Saturday, January 19, 2019. To register, call 877-493-4092, or register via email at CS@TrivediEffect.com.
Each workshop is filled with Divine inspirations, insightful commentary, and deep thought-provoking discourses on topics ranging from human conditioning, physical and mental issues such as sleep disorders, depression, anxiety, and other common life challenges to the development of deeper consciousness and includes a divine energy transmission.
Participants in the recent workshop shared their responses to the last workshop of 2018.
Margaret K. Wahl wrote, "I gained a lot from these workshops. I am so grateful to Master Guruji for sharing his powerful energy with us ."
Maire Mayne said, " This discourse is so clear, helpful and timely for me."
"The way that Guruji explains concepts in practical ways really help me get a clear understanding," said Lynn Harkins. "I have learned more about God from Guruiji than anyone else."
Kathryn Sweas wrote, "This review of the nuts and bolts of your teaching regarding our responsibility to carry forth…is something emblazoned in my heart and inspires me to endeavor more so!"
To find out more about the science, read testimonials, or join an upcoming workshop, visit http://www.TrivediEffect.com
About Guruji Mahendra Trivedi & The Trivedi Effect®
Guruji Mahendra Kumar Trivedi, the founder of the Trivedi Effect®, is on a mission to usher in a new era that integrates science, spirituality, and consciousness to vastly improve the human condition and benefit humanity on a global scale. To date, more than 250,000 people worldwide have benefited from the Trivedi Effect®. His organization, Trivedi Global, Inc., is collaborating with globally renowned product research and development organizations to bring to market proprietary products and therapies in the areas of nutraceuticals, pharmaceuticals, and more.
Alice Branton, CEO, Trivedi Global, Inc., recently spoke on the impact of the Trivedi Effect® at the Entrepreneurship Club of the Harvard Business School, Nasdaq, Microsoft, and Coca-Cola. She also appeared on more than 35 network television news shows in the last year including ABC, NBC, CBS, FOX, CW and more.
Dahryn Trivedi, a prodigious spiritual leader, young entrepreneur, inspiring Trivedi Effect speaker and paradigm-shifting scientist also joins in the mission. She recently spoke at NASDAQ and will be on a TV tour soon.
The Trivedi Effect® has been tested, measured, and validated in over 4,000 scientific experiments globally, by world-renowned scientists and research institutes using the rigor of internationally accepted models of scientific research with the most sophisticated technologies available on this planet. Challenging the known frontiers of science, this research has resulted in over 350 publications in major international peer-reviewed scientific journals with over 4,000 citations.
These publications are available in over 3,500 universities internationally including the prestigious Ivy League Universities, as well as, the National Institutes of Health (NIH).
The next Trivedi Online Workshop is scheduled at Noon, Pacific Time, Saturday, January 19, 2019. To register, call 877-493-4092, or register via email at CS(at)TrivediEffect(dot)com.