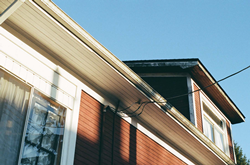 For all of these reasons, Lowe's continues to earn our highest recommendation among online providers of Gutter Guards in 2020.
OVERLAND PARK, Kan. (PRWEB) September 24, 2020
TopConsumerReviews.com once again gave its best-in-class 5-star rating to Lowe's, a leader among online Gutter Guard providers.
Gutter Guards are often a home's best defense against costly exterior repairs. Why? Although keeping gutters clear might just seem like a time-consuming chore that doesn't make much of a difference, a clog can lead to damaged walls and shingles and even expensive foundation cracks. Installing Gutter Guards ensures that the seasonal onslaught of leaves and sticks won't cause problems down the line - pun intended - and that rainwater and melting snow drain appropriately. In the past, Gutter Guards could only be purchased through local sales reps, forcing customers to sit through lengthy pitches and often feeling pressured into placing an order. Fortunately, in today's market there are many options for sizing, pricing, and eventually buying Gutter Guards online - both from retailers who specialize in them and from well-known, big-name home improvement stores who give shoppers options for making returns or exchanges in person.
"Lowe's is the store to trust when going online to buy Gutter Guards," confirmed Brian Dolezal of TopConsumerReviews.com, LLC. "Their website streamlines the entire process, allowing shoppers to filter their options by material, type and color, quickly delivering a list of the best-matched products for their home. Customers particularly like the current trends section of the site, showing people the newest products being installed by professionals around the nation. Lowe's maintains an excellent reputation for customer service, and they make it easy to order Gutter Guards online and either have them shipped directly to the consumer or to the nearest retail location for free pick-up. For all of these reasons, Lowe's continues to earn our highest recommendation among online providers of Gutter Guards in 2020."
To find out more about Lowe's and other retailers of Gutter Guards, including reviews and comparison rankings, please visit the Gutter Guards category of TopConsumerReviews.com at https://www.topconsumerreviews.com/gutter-guards/.
About Lowe's
Lowe's Companies, Inc. is a FORTUNE 50 home improvement company serving more than 17 million customers a week in the United States, Canada and Mexico. With annual sales of $65 billion, Lowe's and its related businesses operate or service more than 2,370 home improvement and hardware stores and employ over 290,000 people. Founded in 1946 and based in Mooresville, N.C., Lowe's supports the communities it serves through programs that focus on K-12 public education and community improvement projects.
About TopConsumerReviews.com
TopConsumerReviews.com, LLC is a leading provider of reviews and rankings for thousands of consumer products and services. From gutter guards to home security systems and outdoor furniture, TopConsumerReviews.com delivers in-depth product evaluations in order to make purchasing decisions easier.