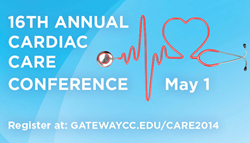 Nursing and healthcare providers enjoy this event due to the quality of presenters we bring as well as the topics that are covered. --Janey Buri, Continuing Education at GateWay Community College
Phoenix, AZ (PRWEB) April 28, 2014
Banner Health System and GateWay Community College are teaming up again to present the annual Cardiac Care Conference, a day-long, continuing education event for doctors, nurses, and caregivers, which will take place on May 1, 2014.
The May 1 event, hosted at GateWay in Phoenix, will have experts in the latest treatment for patients with peripheral vascular diseases, palliative care, aromatherapy medical applications, current research in cardiac care and congenital heart disease.
"GateWay has been a part of this event for the last 16 years," said Janey Buri from the Continuing Education Department at GateWay. "Nursing and healthcare providers enjoy this event due to the quality of presenters we bring as well as the topics that are covered."
Event details:
May 1, 2014
8 a.m. to 3:30 p.m.
GateWay Community College
108 N 40th Street, Phoenix AZ 85284
Credits: 8 contact hours; .5 credit hours
Cost: $80 for Maricopa Residents
There is a Non-credit offering for out of state residents including traveling nurses, healthcare professionals and out of state facilities.
Registration and Info: Contact Janey Buri at 602-286-8546 or buri(at)gatewaycc(dot)edu.
###
About GateWay Community College
As one of the 10 regionally accredited Maricopa Community Colleges, GateWay Community College is a fully accredited public institution of higher education located in Phoenix. Offering more than 125 certificate and associate degree programs in the areas of Business and Information Technology, Health Sciences, Industrial Technology, Nursing and University Transfer, GateWay has emerged as a leading institution to meet the needs of business and industry.
The Maricopa County Community College District is an EEO/AA institution and an equal opportunity employer of protected veterans and individuals with disabilities.