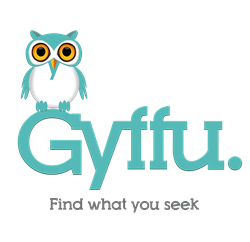 Search history should be truly private. It is not only a feature but also a requirement.
Seattle, WA (PRWEB) April 15, 2015
Along with an interesting name derived from the Nordic god of knowledge, new search engine Gyffu with online privacy protection has plenty to offer its users. The brainchild of founders Sebastian Henao and Darwin Tusarma, Gyffu.com is the latest alternative to search engine giants like Google, Bing and Yahoo.
Gyffu's key differentiators include: truly private search history and unbiased search results. To ensure that users can search for information freely on Gyffu.com, whether it is general knowledge, medical conditions or other sensitive information, the founders have created a new tool that prevents search engines, advertisers, government agencies and the general public from tracing searches back to any individual. In addition, since Gyffu doesn't allow advertisers to pay their way up into the search engine results page (SERP), users can be rest assured that the results they view are completely unbiased.
Speaking about what inspired them to come up with a search engine like Gyffu, CTO, Darwin Tusarma said, "Some online companies are constantly violating your privacy by studying and recording your online behavior and using all your personal data for commercial purposes however they see fit per their inequitable terms and conditions. Our search engine is designed to offer the same performance that other search tools provide, with the added benefit that it doesn't track your searches, which means that no one can use this information at your expense for their own benefit."
Launched in April 2014, Gyffu witnessed a phenomenal growth of 4,600% in less than a year, especially over the last few months. This can be attributed to the fact that users find what they are looking for in less than a minute and a majority come back as repeat customers, which means they are trusting this search engine as a viable alternative. To accommodate the growing needs of "Gyffers", the company recently launched an image search engine, and they have more surprises in store for 2015.
"Search history should be truly private. It is not only a feature but also a requirement. With privacy concerns at an all-time high, we are already seeing programs like Snapchat, Whisper and Secret become popular. Gyffu is a perfect alternative to traditional search engine engines in terms of privacy. If you worry that your private information is not really private, then gyffing is for you," said CEO of Gyffu, Sebastian Henao.
The new privacy protecting search engine can be accessed at http://www.gyffu.com