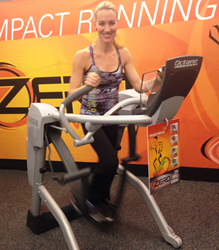 The Zero Runner has transformed my training. It allows me to run more miles and train harder than ever before without putting any additional stress on my body.
New York, NY (PRWEB) November 27, 2014
On 11/20/14, Gym Source was thrilled to host more than 40 fitness bloggers and media representatives at the retailer's flagship Manhattan showroom for a one-day workshop highlighting the benefits of no-impact training with the Octane Zero Runner. U.S. Olympian Carrie Tollefson (USA Track & Field, 2004)—together with Larry Schmidt, 5-time finisher of the Boston Marathon and Ironman World Championship competitor—demonstrated the Zero Runner, and shared their experiences incorporating no-impact training into their fitness routine.
"The Zero Runner has transformed my training," explained Tollefson to event attendees. "It allows me to run more miles and train harder than ever before without putting any additional stress on my body." A former USA Cross Country champion and nationally ranked U.S. indoor cross country runner, Carrie today is a Global Reebok Running Ambassador as well as a mother and weekly online host of C Tolle Run (ctollerun.com).
Schmidt, who had hip replacement surgery in 2008 and first tried the Zero Runner at the Boston Marathon Expo in April 2014, is thrilled with what the Zero Runner enables him to achieve. Explaining the incredible feeling of running pain-free for 30 minutes on the Zero Runner at the Boston Marathon event, Larry says: "I can finally run like I did before my hip injury." He now uses the Zero Runner in his home to train for races and continue his endurance athlete lifestyle. His longest run on the Zero Runner to-date is 27 miles over four hours with no pain in his surgically repaired hip.
Launched July 2014, the Zero Runner from Octane is an unprecedented fitness, training and injury prevention tool for runners and exercisers of all ability levels. Its innovative suspended pedal design enables a smooth elliptical lower body motion and a realistic road-running feel. The result is a machine that redefines cardio training and provides for better results with less stress on knees and joints. The Zero Runner is available at Gym Source and other specialty fitness retailers around the country.
For more information about the Octane Zero Runner media launch and Gym Source, contact Brigette Klakring, Gym Source Digital Marketing Director at (888) GYM-SOURCE. To learn more about the Octane Zero Runner, visit http://www.gymsource.com/octane-zero-runner.
ABOUT GYM SOURCE
Gym Source, headquartered in New York, NY, is America's largest distributor of residential and commercial fitness equipment—and an undisputed leader in fitness expertise. With 31 stores in 10 states, and more than 400,000 customers throughout the United States and in 47 countries, Gym Source maintains its reputation by consistently providing the best customer service and selling only the best equipment. The in-house Gym Source team of fitness experts and service personnel can design, deliver, install and service the fitness needs of any facility. To learn more about how the Gym Source commercial team can provide solutions for your fitness facility, call (888) GYM-SOURCE or visit us at http://www.GymSource.com
ABOUT OCTANE FITNESS
Relentlessly fueled to reinvent zero-impact cardiovascular exercise, Octane Fitness has perfected the elliptical machine, introduced a new category with the xRide® recumbent elliptical and the Zero Runner no-impact trainer, designed strength-infused cardio with the unique CROSS CiRCUIT®, created exercise in a new direction with the LateralX® and is leading smarter training with SmartLink. Defined by standout innovations, and driven to deliver more effective, efficient and rewarding workouts, Octane is engineering elliptical domination.