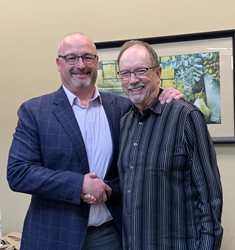 "The acquisition of Dow Diversified advances our mission to deliver an exceptional client experience. We feel this acquisition is a great fit for the entire organization. We are delighted for this opportunity to welcome the DDI team to our 100% employee owned organization"
LOS ANGELES (PRWEB) November 11, 2019
H2I Group announced today the acquisition of Dow Diversified Inc., a California based full service research and scientific environments specialty contractor. Dow Diversified brings over 37 years of experience in providing state of the art solutions and services for laboratories that serve clients in the western United States.
H2I Group is a leading national supplier of turnkey laboratory facility solutions. They provide laboratory environments with high quality lab equipment, furniture, casework, countertops, fume hoods, cabinets, and more. H2I provides front-end design coordination and engineering utilizing the latest technology.
Dow Diversified Inc. joins the H2I team as an industry expert in the design and installation of laboratory casework and equipment. The acquisition of Dow Diversified allows H2I Group to expand their total facility solutions in California and Arizona. H2I Group is excited to join forces with DDI; this partnership is very much focused on building continued success, improved service, and support to their valued clients throughout the U.S.
Dow Diversified's General Manager Matt Dow says he is looking forward to joining H2I Group. "Dow Diversified and H2I Group have worked alongside each other for years providing similar laboratory furniture solutions in our respective territories. Joining forces allows us to build on each other's strengths and further our mutual goal of leading the industry in innovative products, design assist technology, efficient management systems, while continually improving our quality control and safe work practices."
Says Dow Sales Manager Sue Clineff, "This transition only amplifies our commitment to providing exceptional products and excellent customer service. With H2I Group, our clients can take advantage of diverse product offerings in areas previously unexplored. We truly are better together."
H2I Group, founded in 1924, is a leading provider of interior solutions across the United States. They serve through planning, design, construction, and service solutions for high performance environments that enrich and inspire the lives of clients, communities, and employees. They have offices in Minneapolis, Chicago, Denver, Cedar Falls, Salt Lake City, Kansas City, Dallas, Houston, Columbia, Atlanta, Seattle, and Baltimore.
Ron Johnson, President and CEO of H2I Group, says, "Over the last 37 years Dean and Linda Dow have built a very successful business and great team of dedicated employees. Our new partnership with DDI is very much based on our goal to build the best team in the industry we serve. The acquisition of DDI advances our mission to deliver an exceptional client experience. DDI is well regarded for high quality solutions, skilled employees and integrity. We feel this acquisition is a great fit for the entire organization. We are delighted for this opportunity to welcome the DDI team to our 100% employee owned organization."
H2I Group provides design, sales, and service of laboratory solutions and equipment, athletic flooring, prefabricated interior construction systems, and technical education equipment and curriculum. Learn more about the H2I Group solutions at https://h2igroup.com.