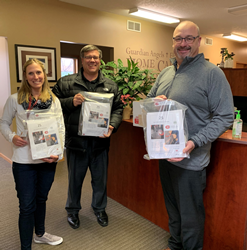 Our hope is to help distribute to local hospitals, healthcare facilities, essential businesses that currently don't have anything or are in need of them.
MINNEAPOLIS (PRWEB) April 17, 2020
As a leading supplier of quality goods and services, H2I Tech Ed Division and Paton Group are excited to team up with Stratasys and St. Cloud State University to design and develop a creative approach for personal protective equipment.
As the global impact of coronavirus (COVID-19) continues to unfold, demands for protective equipment continues to rise. Katie Powell, office coordinator from Guardian Angels Elim Home and Hospice in Elk River, MN found herself at crossroads when their PPE kits started to decrease and any new orders she tried to place were back-ordered until June 2020. At Guardian Angels Elim Home and Hospice, 100 nurses help and take care of elders in-home and in the facility. To provide these nurses with the PPE they need, Katie quickly looked for alternate options by reaching out to Stratasys.
St. Cloud State University quickly jumped on board with the opportunity to serve the local communities and assist healthcare providers. They fired up their Stratasys F250 printers and got to work printing frames for the face shields and laser cut the plastic shields. They were able to mass produce the 100 needed in just one day. It takes one machine 21 hours to print 20 of the headgear/frames and 15 minutes to cut several of the face shields on a ULS laser system. There are also adjustments that need to be made to accommodate different sizes. With some troubleshooting and tweaks, a solution was tailored to meet those challenges. SCSU is able to produce 500-700 masks per week.
By using the same frame and shield from SCSU, they created a unified system to build and cut. Together, they are working to build and cut as many face shields as possible. SCSU currently has about 15 systems running and can produce about 500-700 per week. These alternate face shields are compact and can easily be packaged and transferred to where they are needed. The headgear uses a spring tension that was originally designed by a young man in Sweden method which allows them to use the ABS plastic to connect in the back versus a rubber band which typically has latex. These face shields are easy to assemble and in less than seconds, you will have ready-to-use protective equipment. The PPE equipment is very simple by design. The headband can easily be sterilized for multiple use and the plastic transparency face shield can be easily be swapped out after several uses. It is relatively cheap and quick to make and also easily sanitized.
H2I Group traveled to St. Cloud to pick up and deliver the first batch to the Guardian Angels Elim Home and Hospice. Tech Ed Divisional Manager, Nate Thiesfeld says, "Our hope is to help distribute to local hospitals, healthcare facilities, essential businesses that currently don't have anything or are in need of them. This is a huge effort and I would like to thank our team at H2I Group, Paton Group, and St. Cloud State University. Also to Stratasys, Jesse Roitenberg, for discounted prices and donated materials." Jesse says, "Stratasys is happy to help out such a great cause."
H2I collaborates with clients, designers, and builders to provide total facility solutions. Total facility solutions means combining advanced design, innovative products, connected systems, and field services to meet clients' specific requirements and vision. The H2I clientele includes contractors, architects, healthcare facilities, schools, colleges, and universities. H2I Group provides design, sales, and service of: laboratory solutions and equipment, athletic flooring, prefabricated interior construction systems, and technical education equipment and curriculum.