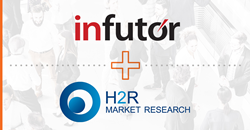 "By teaming with Infutor, we can determine how attitudes and behaviors have changed from before, during and eventually after the pandemic." -- Jill Renner, President of H2R Market Research
OAKBROOK TERRACE, Ill. (PRWEB) November 17, 2020
Consumer identity data expert Infutor today announced that H2R Market Research, a premier marketing research firm, has selected Infutor to help enable end-to-end market analysis for industries adapting to the current and post-covid marketing landscape. By combining Infutor's Connex predictive intelligence with H2R's powerful ability to predict marketing outcomes and successes, travel and tourism, education and telemedicine brands get a 360-degree view of changing consumers to make data-driven business decisions such as determining next locations, selection of creative assets, and more.
"Infutor looks in the rearview mirror to measure behavior and creates a profile to determine what a brand's best consumers look like and where to get more of them. H2R provides forward-looking insights to determine how best to engage those consumers, especially as organizations are adapting to major shifts in their business models," said Gary Walter, CEO of Infutor.
Infutor's Connex intelligence combines demographic data from 263 million consumers and more than 5,400 consumer lifestyle and behavior attributes across 86 categories to instantly identify brands' best-performing consumer segments. Armed with this data, H2R provides organizations with competitive analysis, insights on the best messaging, which channels to focus efforts, and what to expect as an outcome.
"H2R offers positioning and message testing to prove a hypothesis, along with data-driven marketing advice. By teaming with Infutor, we can determine how attitudes and behaviors have changed from before, during and eventually after the pandemic," explained Jill Renner, President of H2R Market Research. "Our covid research helps brands such as travel and tourism, education, telemedicine and more determine where to focus their efforts in their rapidly shifting industries."
In a Forrester blog post titled Predictions 2021: Divided Consumers Will Wrestle With Escalating Individual, Community, And Global Tensions published Oct. 16, 2020, Senior Analyst Anjali Lai notes, "Emotion will play a key role in influencing consumer priorities, decisions, and behaviors in 2021. Consumers who fear for their physical or financial health will conserve their energies; those who enter 2021 physically and financially unscathed will channel their pent-up desires into experiential thrills that compensate for a year of deprivation."
About H2R Market Research
H2R Market Research is an international award-winning research consultancy that specializes in providing customized market research services in the hospitality, attraction, and destination industries and other areas impacting consumer quality of life. Arming you with your customers' voice, H2R helps you go from "I think" to "I know."
About Infutor
Infutor is the expert in data-driven consumer identity management and identity resolution. The company is solely focused on enabling brands to instantly gain access to the most complete and accurate information about consumers, exactly when they need it, to make informed marketing and risk mitigation decisions. In the past year, Infutor has been named to the Inc. 5000 list and recognized by Crain's Chicago and Built In Chicago as a Best Place to Work.