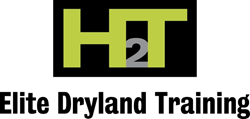 Toronto, ON (PRWEB) July 28, 2014
H2T Elite Dryland Training will be opening up its first location August 2014.
Located at 573 Alness Street in Toronto, H2T is focused on capturing clients from both north and south of Steeles. H2T is a state of the art facility that specializes in fitness, nutrition and wellness for youth and seniors. There are many gyms out there for people 18 and older but nothing that focuses on our children and seniors alone. H2T will be home to many elite athletes that will train sport specific all year round, allowing them to become even better at their sport. H2T will also cater to non-athletic children providing them a workout that is tailored to their specific abilities. The focus of H2T is to make fitness fun for all ages.
Founder Sue Forberg has been providing training for over 5 years. She is a certified personal trainer and boot camp instructor. She is also certified in youth training. "We want to give kids a place that they want to come to. We want to start them off on the right path and show them that fitness can be fun and does not need to be looked at as a chore," said Sue.
The Facility is 7000 square feet and includes a Yoga studio, 2000-square foot indoor turf field, full cross fit rig, battling ropes, punching bags, tractor tires, slam balls, wall balls, spin bikes, plyometric box jumps and much much more. A fabulous viewing area for parents makes it very comfortable to watch and relax during the training sessions. H2T offers personal training, team training, birthday parties, yoga, seniors training, team building, corporate events, and mom and tot programs. A group of professionals all under one roof include a dietitian, sports therapist, personal trainers, and more.
"H2T will allow us to make a big difference in the lives of so many people. We have a following of clients that will be coming to our new facility plus we look forward to meeting many new ones. Our team of trainers are all experienced and we have developed some amazing programs that will make each session different. We know what we want to do and we have taken the first step with the facility," said Sue.
An open house will be held Sunday, August 10th from 1pm-4pm. For inquiries, please email info(at)h2telitedryland(dot)com.
H2T Elite Dryland Training Inc.
573 Alness St. Toronto, ON. M3J 2T8
http://www.H2Tdryland.com
FS Local is an innovative new Canadian Web business directory based in Toronto, Ontario.
The company provides Internet marketing, advertising and consulting services for small businesses, with focus on local social media web marketing solutions. H2T Elite Dryland Training is a proud member of the FS Local Toronto business community.