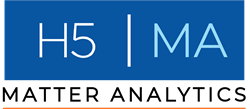 RelativityOne makes it fast and easy for our customers to get started with H5 Matter Analytics and allows us to meet clients where they are, while allowing data to stay where it is.
SAN FRANCISCO (PRWEB) April 16, 2020
H5, an expert search and eDiscovery company, today announced that H5 Matter Analytics, its breakthrough Relativity-integrated application for the acceleration of document and privilege review, is now fully compatible with RelativityOne, the cloud version of the e-discovery platform, in addition to already supported Relativity versions.
H5 Matter Analytics empowers Relativity users with solutions that leverage the unique H5 perspective in applying advanced analytics to optimize user control throughout the review process, reducing risk and making eDiscovery more efficient and cost-effective.
The newest release of H5 Matter Analytics brings capabilities to RelativityOne that enable organizations to lower costs by reducing first pass privilege review data volumes by up to 76% over traditional privilege screens and further eliminating as much as 70% of redundant email content from full review, automating manual tasks in potential privilege review and privilege logging workflows. The application can also surface sensitive PII and health data, leveraging proven H5 proprietary methods and technology to help meet client demands for innovation that can produce better outcomes.
"We have a longstanding relationship with Relativity and are thrilled to be integrating H5 Matter Analytics with RelativityOne," said Jason Richard, VP of Products for H5. "Relativity's strong platform for software development creates a great market for introducing new and innovative solutions. Not only will this greatly expand our market, RelativityOne makes it fast and easy for our customers to get started with H5 Matter Analytics and allows us to meet clients where they are, while allowing data to stay where it is."
"We look forward to strengthening our partnership with H5 and adding another layer of actionable intelligence for RelativityOne users with the integration of H5 Matter Analytics," said Drew Deitch, Relativity's Director of Strategic Partnerships. "The multi-functional app leverages H5's highly-regarded search and review expertise to accelerate data identification and assessment to meet the everyday needs of its customers."
H5 Matter Analytics is now available in the Relativity App Hub, which includes applications and integrations built by Relativity developer partners. With more than 124 apps now available, the App Hub gives users the ability to pick and choose the solutions that best suit their unique workflows across different stages of the e-discovery process—and solve data challenges outside e-discovery.
####
About H5
H5 helps corporations and law firms and and manage the documents that matter in litigation and investigations by providing expert-driven, technological solutions to address the complex challenges created by electronic data. With expertise in eDiscovery, technology-assisted review and search, H5 is committed to helping clients find and manage the information they need to win cases, meet regulatory requirements and address risks by providing creative solutions that ensure fast, accurate, cost-effective results. This commitment has resulted in the development of H5 Matter Intelligence® and H5 Matter Analytics®, advanced eDiscovery products that streamline review and enhance the user experience for Relativity-hosted matters. Contact us at info@h5.com or visit http://www.H5.com.
About Relativity
At Relativity, we make software to help users organize data, discover the truth, and act on it. Our e-discovery platform is used by thousands of organizations around the world to manage large volumes of data and quickly identify key issues during litigation, internal investigations, and compliance projects. Relativity has over 180,000 users in 40+ countries from organizations including the U.S. Department of Justice, more than 70 Fortune 100 companies, and 198 of the Am Law 200. RelativityOne offers all the functionality of Relativity in a secure and comprehensive SaaS product. Relativity has been named one of Chicago's Top Workplaces by the Chicago Tribune for nine consecutive years. Please contact Relativity at sales@relativity.com or visit http://www.relativity.com for more information.