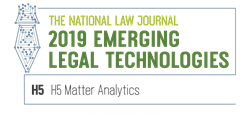 As technologies rapidly evolve, we are always on the lookout for companies that are finding ways to stay ahead of the curve. H5 is among a select group of companies whose innovative technologies are changing the ways that law firms operate. - Richard Caruso, VP and General Manager, Legal Media
SAN FRANCISCO (PRWEB) February 06, 2019
H5, a leading provider of technology-assisted review and eDiscovery services, today announced that H5 Matter Analytics has been named to the National Law Journal's inaugural list of Emerging Legal Technologies. With this list, the publication seeks to highlight new legal technologies that are helping change the way law firms and legal departments operate.
In recent years, law firms and legal departments have embraced new approaches and technologies to drive more efficiency and do more with less. As their own clients innovate, they face mounting pressure to include advanced tools in their practices, especially in the data intensive area of eDiscovery for litigation and investigations. H5 recognized this challenge and sought to address it by creating a product that would make some of its own proprietary analytics available to clients, resulting in H5 Matter Analytics.
H5 Matter Analytics, which provides several advanced analytics functions for Relativity-hosted data, empowers users with solutions that have been developed and battle-tested in H5's services business—such as next-generation email threading, near duplicate identification, name normalization and a new linguistics-based approach for PII data identification—to maximize user control over the review process and to save time and money.
"We are very pleased that the NLJ recognizes the value of H5 Matter Analytics as an innovative product that is helping law firms and legal departments accelerate document review and streamline what are often very complex workflows," said Jason Richard, VP of Products at H5. "This acknowledgement comports with feedback we've received from our own clients, who say that their experience with H5 Matter Analytics greatly enhances their ability to get work done more efficiently and cost-effectively."
A key innovation of H5 Matter Analytics is the Thread Viewer, a visual representation of an email thread combined with a stream of the conversation itself, which allows reviewers to see the path and substance of email communications as they flow and branch through forwards and replies. With the ability to review messages as a single communication stream, reviewers realize a number of efficiencies, such as being able to apply coding decisions (e.g., privilege, responsiveness, and key document status) to individual messages, select branches, or entire thread groups at once. Combined with the name normalization feature that connects disparate name variations, reviewers can streamline privilege review and logging by applying color-coded overlays to highlight, for example, the presence of attorneys and third parties in communications.
"As technologies rapidly evolve, we are always on the lookout for companies that are finding ways to stay ahead of the curve, said Richard Caruso, Vice President & General Manager, Legal Media. "H5 is among a select group of companies whose innovative technologies are changing the ways that law firms and legal departments operate."
For additional information or to request a demonstration, visit this page or contact H5 at info.H5.com.
About H5
H5 helps corporations and law firms find and manage the documents that matter in litigation and investigations by providing expert-driven, technological solutions to address the complex challenges created by electronic data. With expertise in eDiscovery, technology-assisted review and search, H5 is committed to helping clients find and manage the information they need to win cases, meet regulatory requirements and address risks by providing creative solutions that ensure fast, accurate, cost-effective results. For more information about H5, visit our website at http://www.h5.com.