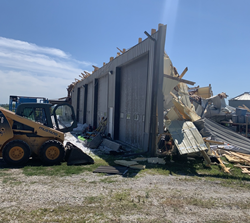 I never dreamed a storm like this could happen to us. The strength and durability of Haas Door products has impressed me.
WAUSEON, Ohio (PRWEB) September 11, 2020
On August 10, 2020 a strong derecho brought hail and wild wind gusts up to 112 mph through the state of Iowa. The vicious storm damaged trees, homes and businesses. It also destroyed the storage units belonging to Rod Andrew in Ankeny, Iowa. Except for four Haas Door Insulated Steel 700 Series garage doors, they remained standing after the storm.
"I never dreamed a storm like this could happen to us," says Andrew. "It was like the intensity of a category four hurricane pounding our area for at least 30 minutes.
"Our personal storage units were demolished. The winds took the ceiling off, which caused the sides to blow out of the units. But, the garage doors were still standing. In fact, they didn't even have a scratch on them."
Rebuilding
After the storm Iowa residents started cleaning up more than $21 million in damages plus more than 13 million acres of lost crops. Like others, Andrew made plans to rebuild. One of his first calls was to WD-Door to order more Haas Door products.
"While the garage doors that survived the storm look in great shape, it's not a smart move to use them again," says Brad Wharff with WD-Door. "Since the steel model 716 garage doors from Haas Door held up so well through the derecho, that's what we're recommending again for the rebuild."
Dependable Garage Doors
In addition to rebuilding his four-bay storage unit, Andrew is constructing a second unit. He's also ordering Haas Door products for that new structure.
"We built the original storage unit in 2017 to hold family items," says Andrew. "We were in the process of building the second unit when the storm hit. We were actually fortunate. At the time of the derecho, the existing units were fairly empty and contained just lawn equipment and shelving with tools.
"The strength and durability of Haas Door products has impressed me. As we construct the two buildings, we plan to include new Haas Door garage doors. Hopefully we'll never experience another storm like this one again. But, if we do, it's good to know that Haas Door products have the strength and stability we need."
Haas Door is located in Wauseon, Ohio, where the company manufactures steel and aluminum residential and commercial garage doors. The family-owned company holds memberships in IDA and DASMA, and produces products that are sold throughout North America. For more information on Haas Door, visit http://www.HaasDoor.com.