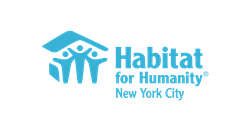 NEW YORK (PRWEB) September 24, 2018
Habitat for Humanity New York City, a major builder, preserver and advocate for affordable homeownership throughout the five boroughs, celebrated the completion of Dean Street Residences with a ribbon cutting ceremony on Saturday, September 22nd, welcoming 15 families to their new, affordable homes in the Brownsville neighborhood of Brooklyn. The afternoon-long celebration brought together Habitat Homeowners, government officials, volunteers, donors and staff who worked together to bring this project to life and create 15 new units of affordable homeownership.
"Habitat NYC is committed to providing hard-working New Yorkers with the opportunity to affordably own a home and build equity. This is an investment in families and communities that reverberates to other critical outcomes such as improved health, educational attainment, and civic engagement. The work of more than two thousand volunteers and staff culminates in days like today, when we welcome hard-working families into stable, affordable homes that they can call their own," said Karen Haycox, CEO of Habitat for Humanity New York City. "We are so thankful to all our volunteers, government partners and Habitat Homeowners for their dedication to this project and for making the official opening of Dean Street such a special celebration."
Dean Street Residences broke ground in 2016 at the corner of Dean Street and Mother Gaston Boulevard, engaging construction professionals and volunteers in the development of a four-story, multi-family building comprised of 15 two-bedroom apartments to be sold at an affordable rate to hard-working, lower-income families. Amenities include a landscaped backyard and on-site laundry facilities. The building also meets Enterprise Green Communities standards that ensure healthy environments and cost-saving fuel efficiency.
While under construction, Dean Street hosted many special volunteer build events including Martin Luther King Jr. Day of Service, Fleet Week, Women Build, and Build for Unity. In total, 2,167 volunteers devoted 19,518 hours to the construction, finishing and beautification of Dean Street.
Dean Street was made possible through support from many partner agencies including New York City Department of Housing Preservation and Development, New York State Homes and Community Renewal, New York State Affordable Housing Corporation, New York State Housing Trust Fund, Office of the Brooklyn Borough President, and the City and State administrations.
New York State Homes and Community Renewal Commissioner RuthAnne Visnauskas said, "Dean Street Residences offers hardworking New Yorkers the chance to own their first home, build equity, and be part of a vibrant, up-and-coming neighborhood. HCR is proud to invest nearly $1.3 million in Dean Street Residences, as well as offer low-interest, fixed rates mortgages through the State of New York Mortgage Agency. Congratulations to Habitat for Humanity, all of our partners, and to the people who will call Dean Street Residences home."
"Through Housing New York, we created programs to harness each and every opportunity to develop affordable housing. As our supply of public land continues to shrink, no site has gone overlooked and I am proud to say today's celebration put one of these sites to good use by creating new affordable homes for low-income New Yorkers," said HPD Commissioner Maria Torres-Springer. "I want to congratulate Habitat for Humanity and all development partners for a job well done. Your hard work produced a beautiful new development, and more importantly, 15 homes for well-deserving new homeowners."
Brooklyn Borough President Eric Adams said, "Everyone should have equal access to quality, affordable housing, including the prospect of homeownership across every income category. That's why I am proud that my administration allocated $1 million towards the development of affordable housing units at Dean Street Residences for first-time homeowners. I commend Habitat for Humanity and all the city and state agencies for their partnership on developing these new homes, which will provide much-needed housing for low-income individuals and families in Brownsville and Ocean Hill, a part of the borough that has endured decades of economic disadvantage. This project will lift up more Brooklynites onto the ladder of economic opportunity creating a stronger and more resilient community for the future."
"New York City is in the midst of an affordable housing crisis," said Congressman Hakeem Jeffries. "Thanks to our continued work alongside Habitat, the New York State Affordable Housing Corporation and others, these 15 new apartments will serve as quality and affordable housing to residents of Ocean Hill and Brownsville for years to come."
Several board members, volunteers, Homeowners, and elected officials came out to support the completion of Dean Street Residences and celebrate the exciting milestone for Habitat NYC and families moving into affordable homes, including New York State Senator Roxanne J. Persaud and New York State Assemblywoman Latrice Walker.
"This is a huge accomplishment and helps to fill an urgent need we see in Brooklyn. I would like to thank Habitat NYC and partners for their hard work making affordable housing a reality for the new residents at Dean Street. It is only as a community will we end the homelessness that impacts our neighbors and friends across New York City," Senator Roxanne J. Persaud said.
New York State Assemblywoman Latrice Walker said, "Each and every New Yorker deserves a roof over their heads that is affordable, reliable and safe. No one should have to make the choice between food on their table and rent. I commend Habitat for Humanity for all of their dedication to the Dean Street project and for providing 15 families with a place to call home."
"Home ownership is one of the most reliable pathways to the middle class. But with property values steadily rising across the city, it has remained out of reach for many low-income New Yorkers. The opening of the new Dean Street Residences today signal our commitment to ensuring that everyone has a shot at home ownership and the American Dream. I am incredibly proud to have partnered with Habitat NYC and Borough President Adams' office on this effort," said Council Member Rafael Espinal.
Habitat NYC serves hard-working New York families – often including single parents, seniors and public service employees – based on their need, ability to pay and willingness to partner. Habitat partner families are of low- to moderate- income, have stable employment history and decent credit scores and agree to fulfill the "sweat equity" component and participate in financial and homeownership education. Since the New York City affiliate was founded in 1984, Habitat for Humanity New York City has served more than 700 families throughout the five boroughs.
Habitat for Humanity New York City transforms lives and communities by building and preserving affordable homes for hard-working families and by uniting all New Yorkers around the cause of affordable housing and homeownership. Its unique model combines Habitat Homebuyers' "sweat equity" with volunteers and contractors to build high-quality homes at a low cost. Habitat Homebuyers pay a 1% down payment and 2% fixed-interest mortgage provided by SONY-MA. To learn more about homeownership through Habitat or volunteer opportunities, visit http://www.habitatnyc.org.
About Habitat for Humanity New York City
Habitat for Humanity New York City transforms lives and communities by building affordable homes with families in need - and by uniting all New Yorkers around the cause of affordable housing. With the help of thousands of volunteers each year, Habitat NYC builds and preserves homes for families across the five boroughs. Learn more at http://www.HabitatNYC.org and connect with us on Facebook or follow us on Twitter and Instagram at @HabitatNYC.