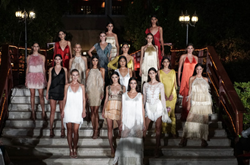 CANCÚN, Mexico (PRWEB) November 12, 2019
The successful fifth edition of Mexico Fashion Show started on the night of November 6 with a dinner and Mariachis for designers, organizers and fashionistas at Alebrije restaurant in Hacienda Tres Ríos. Attendees had the opportunity to meet and socialize. The next day a press conference took place with the presence of more than 60 local, national and international media outlets.
The main event took place on November 8. For the second time Hacienda Tres Ríos was the beautiful setting for the Mexico Fashion Show Riviera Maya runway. The show is the most important fashion event in the Mexican Caribbean. Things kicked off with a welcome cocktail party at 6:30 pm followed by the gala runway show at 8:30 pm.
On behalf of Sunset World, Orlanda Arroyo welcomed the general public as well as guest designers Alfredo Martínez from Mexico, Florencia Celauro and Hugo Vázquez from Paraguay, Fabio Toñanez from Argentina and Adilia Alemán from Nicaragua. The five designers put on a magnificent show featuring their fashionable creations. Their designs were accessorized with spectacular Fernando Rodríguez jewelry and vanguard Shoetique Marialuna footwear by Gabriela Sánchez. They are both Mexican designers.
More than 40 models showed the simple to sophisticated designs. Creativity abounded in each of the garments and the audience was amazed by this magical display of good taste.
The night closed with a lively after-party, during which guests commented on their favorite designs and enjoyed delicious canapés and ingenious cocktails until midnight when the event ended. Mexico Fashion Show was sponsored by prestigious brands including Infiniti, IOS Offices, Cantina La No. 20, Bobbi Brown, Life Ambulances and Cervecería Cancún.
"Grupo Sunset World Group hosts activities that promote renowned talent and tourism," said Orlando Arroyo, CEO of Sunset World Group, adding, "The Riviera Maya, with the its jungle and luxurious resorts like Hacienda Tres Ríos, is the ideal place to hold international events."
Hacienda Tres Ríos is the only environmentally responsible luxury resort that offers exclusive access to the Tres Ríos Nature Park in the Riviera Maya with a truly comprehensive All Inclusive Plan. Enjoy architecturally acclaimed accommodations, fine dining, world-class spa services, and dazzling experiences at the exclusive Tres Ríos Nature Park. Experience absolute luxury in La Herencia Suites with butler service. Our members can take advantage of guided tours through mangrove forests, swimming, snorkeling, and kayaking along winding natural rivers or simply unwind on its tranquil beaches.