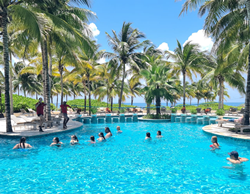 CANCÚN QUINTANA ROO, Mexico (PRWEB) November 24, 2020
The prestigious World Travel Awards organization announced that Sunset World Group's Hacienda Tres Ríos Resort, Spa & Nature Park received the most votes for "Leading Family Resort" in Mexico in 2020; another achievement in an award-winning year for this great resort which offers endless activities for members and guests of all ages.
In addition to preparing for the new normal in 2020, Hacienda Tres Ríos modified its all-ages activity program, which now includes tennis, batting cages, darts, archery and bocce ball tournaments. In addition, it expanded one of the activities that adults enjoy the most, dance classes, with rhythms like bachata and merengue. Nightly entertainment also offers more options, including the Las Vegas, Pixels y Memories of México shows.
All this is in addition to the adventures offered in Tres Ríos Nature Park, which surrounds Hacienda Tres Ríos. The whole family can explore the jungle on a Segway or jungle kart, the cenotes and rivers in a kayak or snorkeling, and visit the nursery to see countless tropical plants. Last but not least, the SenseAdventure Tour offers participants a chance to explore their senses and connect with nature.
"Hacienda Tres Ríos is a place full of fun, adventure and relaxation for the whole family. There are countless things to do," said Martha Richardson, Sunset World Group's Corporate Director of Operations, "We are excited and proud that our members and guests enjoy the resort and give us their vote," she concluded.
The World Travel Awards is a prestigious awards program in the global travel and tourism industry. Winning a World Travel Award is an accolade which many strive for but few achieve. Voting is open to the general public, which means the winners are top of mind in each category. The competition takes place by global region.
Hacienda Tres Ríos is the only environmentally responsible luxury resort that offers exclusive access to the Tres Ríos Nature Park in the Riviera Maya and a truly comprehensive All Inclusive Plan. Enjoy architecturally acclaimed accommodations, fine dining, and world-class spa services.
Sunset World Group is a family-owned Mexican company and a leader in the hospitality industry, offering authentic and unforgettable vacation experiences in Cancun and the Riviera Maya. It was founded more than 30 years ago and has grown to offer six resorts, world-class travel services, amenities and a diverse network of operational and marketing solutions that focus on providing the best vacation experiences for its Members and guests. From cultural excursions to water sports, the Members of Sunset World are never far from their next great adventure.